AWARD! The Probability Broach: The Graphic Novel wins the Prometheus "Special Award" from the Libertarian Futurist Society.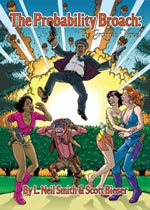 The award was presented August 5, 2005 by the Libertarian Futurist Society at the 63rd World Science Fiction Convention in Glasgow, Scotland. The LFS judges awarded the prize for "reaching new audiences by presenting a libertarian classic in graphic form," according to Fred Moulton, awards presenter.
The graphic novel is a condensed re-telling of the prose novel The Probability Broach, written by L. Neil Smith and originally published in 1979 by Del Rey.
The original prose novel had won the second Prometheus Award for Best Novel in 1982 (when it was re-printed), making this the first time a single story has won two Prometheus Awards. This is also the fourth Prometheus Award for author L. Neil Smith, who also won awards for his novels Pallas (1994) and Forge of the Elders (2001).
The Prometheus Award, sponsored by the Libertarian Futurist Society (lfs.org), was established in 1979, making it one of the most enduring awards after the Nebula and Hugo awards, and one of the oldest fan-based awards currently in sf. Presented annually since 1982 at the World Science Fiction Convention, the Prometheus Awards include a gold coin and plaque for each of the winners.
The Prometheus awards for Best Novel, Best Classic Fiction (Hall of Fame) and (occasional) Special awards honor outstanding science fiction/fantasy that explores the possibilities of a free future, champions human rights (including personal and economic liberty), dramatizes the perennial conflict between individuals and coercive governments, or critiques the tragic consequences of abuse of power--especially by the State.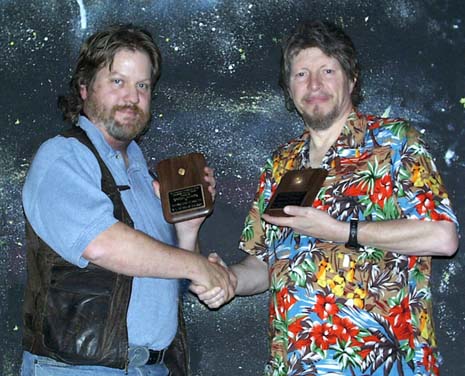 Neither Smith nor artist Scott Bieser were able to attend the awards presentation in Glasgow -- they are pictured above celebrating their awards at their favorite Fort Collins, Colorado drinking establishment -- but each sent the following statements which were read at the event:
From L. Neil Smith:
It's difficult to express adequately my delight that the graphic version of my 1980 novel The Probability Broach has won a special Prometheus Award of its own. For me, it's a little like having sold the Brooklyn Bridge -- twice!
I'm very happy that Win Bear and Lucy Kropotkin and all their friends (and mortal enemies) continue to win allies for the cause of liberty and libertarianism. The past 25 years have taken them (and me) on many strange and interesting adventures. I wonder what lies ahead for all of us now.
It's especially pleasing that the great work of my friend and partner, Scott Bieser, is being recognized in this way. He has a fabulous knack for taking my words and turning them into the exact images that were in my head, and he has a great gift for words himself that is rare among graphic artists. I think it's fair to say that we're rapidly becoming the Gilbert and Sullivan (or at least the Martin and Lewis) of the movement. Sadly, there aren't enough of us to be Marx Brothers.
So thank you, Libertarian Futurists, for making my year, and for what amounts to a three-and-a-halfth Prometheus Award to hang on my office wall. Whenever I feel professionally gloomy, all I have to do is look up at them, in order to convince myself that there is a point to the struggle, after all.
From Scott Bieser:
My thanks to the judges who chose to give us this award, which may be the second Prometheus award for The Probability Broach but it's the first for me. There are few things in life sweeter than a public "atta-boy" from such a learned and discerning group as the Libertarian Futurist Society.
I'd like to acknowledge two more libertarians, besides Neil Smith and myself, without whom this book would not have been made.
On a Yahoo mailing list on 2002, it was Lux Lucre who first suggested re-writing Neil's first novel as a comic-book series, which would later be re-published as a trade-paperback "graphic novel." Lux is, as some of you know, the Cyberspace name for the late Kerry Pearson of Canada, who was a passionate supporter of both liberty and science-fiction and well known on, it would seem, virtually every Intenet forum and mailing list dealing these topics. Lux, Neil and I and some others discussed the details, and the idea mutated somewhat -- the story would not easily divide into 24-page segments, so we dropped the comic-book series and designed the project to be a full-size book from the outset.
Neil and I created several sample pages from the story and I shopped the book around to the half-dozen comic publishers I knew of who both produce graphic novels and respect creators' rights. It was a time-intensive and sometimes daunting process, and I might have given up at several points, but Lux's enthusiasm for this project convinced me that I was on the right track, so I persevered, and got some -- interesting -- comments, but no offers.
So up comes another libertarian sci-fi fan, my brother Frank Bieser, who had just recently cashed out of the dot-com business, decided this would be a good time to go into the publishing business, and founded BigHead Press. And as a result, our graphic novel idea could be made real.
By the time we set up the arrangements to start the art production, Kerry was working on other projects and did not become part of the production team. However we did touch base from time to time on the book's progress. I was just a bit past two-thirds through the art pages when word of Kerry's sudden demise reached me, and I was shocked and saddened along with the many hundreds of other friends he had made in cyberspace.
So Neil and I agreed to put Kerry into the book, assuming one of the roles from the original prose story. Kerry is the private security chief aboard the airship San Francisco Palace who we meet after the kidnappings, and I hope he would have liked the rendition.
Frank also appears in the book, as do many of my friends and family, as part of various crowd scenes. But as he is still, I'm very happy to say, still among the living, he seeks his reward in the form of a profitable publishing company. So I hope everyone who appreciates my brother's role in providing quality libertarian science-fiction will show it by purchasing copies of The Probability Broach: The Graphic Novel for their friends as well as themselves.