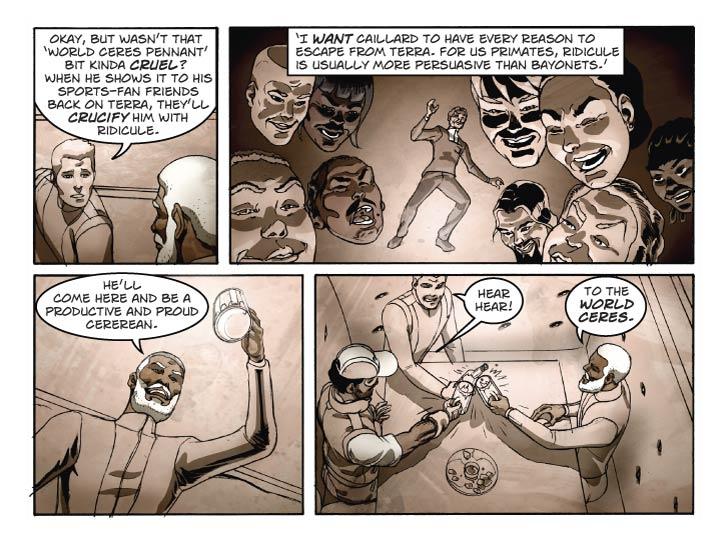 Strip 104 - Click on page above to goto the next page. -- First Seen: 2009-02-05
Escape From Terra is updated with new pages every Monday through Friday.

Roswell, Texas Deluxe Pre-Launch Deal
As we get ready to launch our Roswell, Texas Deluxe Indiegogo campaign next week, we have an early bird deal to offer. If you sign up to our campaign before the campaign starts, you will get a 15% discount on your contribution to help us print 500 copies of the limited deluxe edition of the popular retro-sci-fi comedy romp. By signing up, you will receive updates on the campaign as well.
To sign up for our early-bird special, just go to our Indiegogo Roswell, Texas Rides Again campaign pre-launch page. And stay tuned for more announcements!
Roswell, Texas - Full Color Hard Bound
ROSWELL, TEXAS, the retro-sci-fi comedy romp written by L. Neil Smith and Rex F. May, and illustrated by Scott Bieser and Jen Zach, is getting a new lease on life from Big Head Press. The new deluxe printed graphic novel will be in a full-color, larger format hard-back book, and limited to 500 copies available exclusively through Indiegogo.com, the crowd-funding platform. This new edition will also include an afterward by Rylla Smith, daughter of author L. Neil Smith, who discorporated in late August.>
The crowd-funding campaign is scheduled to commence October 25, ending November 23. Stay tuned for more announcements.

The Transcript For This Page
Panel 1
Smaller panel -- Reggie and Bert

Bert: Okay, but wasn't that 'World Ceres Pennant' bit kinda cruel?

Bert (2): When he shows it to his sports-fan friends back on Terra, they'll crucify him with teasing and ridicule.

Panel 2
Larger, Abstract panel. Try to channel Steve Ditko. Guy Caillard is standing by himself looking really embarrassed as he is surrounded by larger-than-life lauching faces.


Reggie (out of frame): I want Caillard to have every reason to escape from Terra. For us primates, ridicule is usually more persuasive than bayonets.

Panel 3
Back at the table, Reggie hoists his beer mug in a toast-making gesture.

Reggie: He'll come here and be a productive and proud Cererean.

Panel 4
The three friends click their mugs together making their toast.

Bert and Ernie in unison: Hear Hear!

Reggie: To the World Ceres.