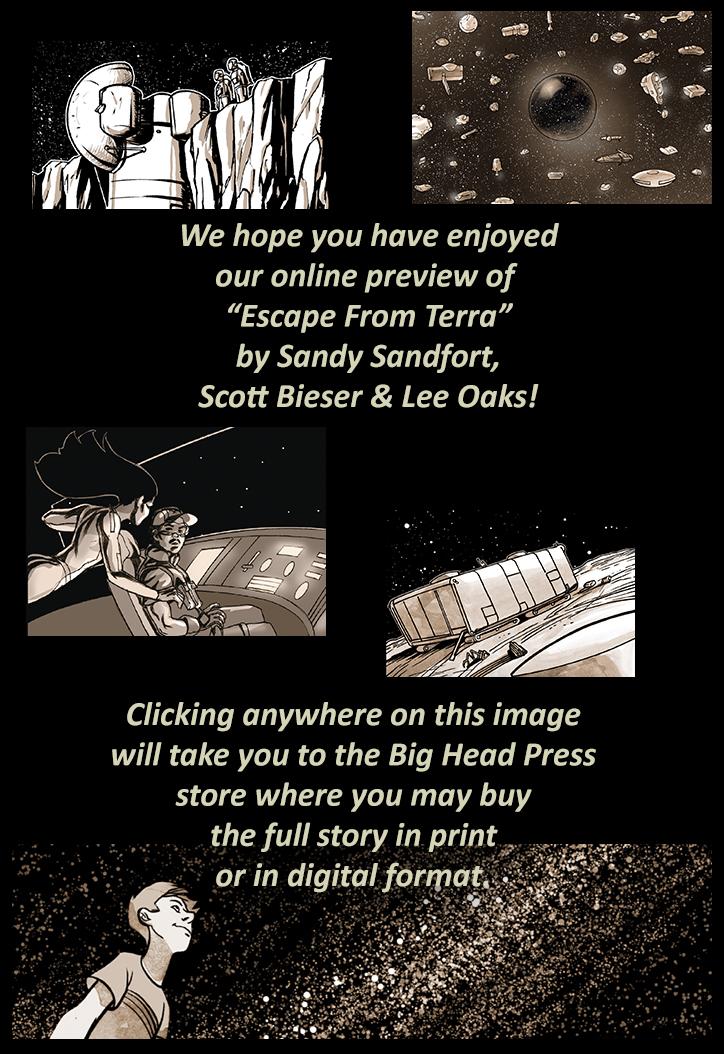 Strip 989 -- First Seen: 2012-07-02
Escape From Terra is updated with new pages every Monday through Friday.

More Goodies To Come!
As another incentive, when we hit our first goal of $7,000, we will add a new perk to the mix: the trade paper back including a mini-version (8.5" x 11:) of the full size poster we'll be adding when we hit our first stretch goal. As announced last week, the art is still in-progress and we'll post more updates on the poster as Scott is able to refine it.
And to correct last week's post, the full size poster will be 18" x 24".
Help us reach our goal by continuing to spread the word! And if you haven't contributed yet, then click on the image and help us out.
The Incentive
Our IndieGoGo campaign got off to a strong start, but now it's time to add more incentive, so...
Check out the work-in-progress sample of the official promotional poster for Quantum Vibe: This Means War (Part 1).
The finished poster will be made available to donors when we make our first stretch goal of $10,000. It will be offered in two sizes: 8.5" x 11" (which can be mailed flat) and 18" x 24" (which must be shipped in a tube).
So please help us make this poster a reality, check out our campaign page if you haven't already, and choose the best reward tier for you.

The Transcript For This Page
Panel 1
Medium shot of Marsha, recovered from her surprise, getting down to business.
Marsha: Look, you people, I'm serious.
Marsha: You never know when a real threat will come along that your silly 'rugged individualism' can't handle.
Panel 2
View of part of the not-very-sympathetic crowd. One of them is shouting out a response to Marsha.
Marsha (OP): You need some authority in place to deal with the UW ...
Man in crowd: Ceres kicked their ass!
Panel 3
Masha soldiers on from the podium, but she's losing her fire.
Marsha: What ... what about space pirates!
Panel 4
Marsha looks exasperated by the response:
Voice from crowd: Three pirates were executed on Pallas a few years back. Things have been quiet since then.