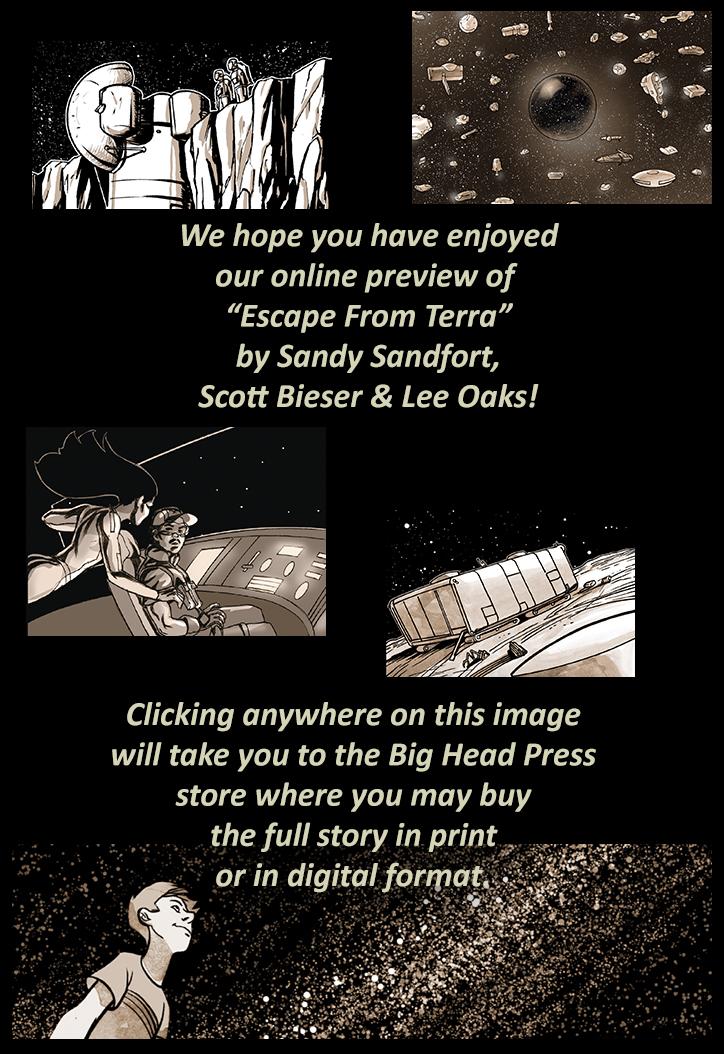 Strip 869 -- First Seen: 2012-01-16
Escape From Terra is updated with new pages every Monday through Friday.

Not Safe
Starting Monday 4-25-2022, with part 3 of QUANTUM VIBE: This Means War, each strip installment has been extended to have six panels rather than four. We believe this will enable a smoother, fuller story flow for the reader. We will also be limiting uploads of QUANTUM VIBE to one installment per week so Scott has time to develop a new spin-off strip, Not-Safe.
Not-Safe will be a NSFW strip set in the Assimulation galaxy depicted in Volume 5, with Eithne Lamdagan as the central character. Our hope is it will bring in enough money so Scott can hire a colorist again and he can start producing more QUANTUM VIBE strips. More info coming soon.
QV8 Campaign Is Indie-Go-go!
Our Indiegogo campaign for part 2 of 3 of Quantum Vibe: This Means War is now live. Perks include the trade paperback, the ebook version, a 10 pack advertising distant future legal services, and a special offer t-shirt supporting the Free Cosmos Project.
The clock is ticking on this 45 day campaign. You do not want to miss out! Click the image or the link below to donate to our campaign and get those sweet, sweet perks.

The Transcript For This Page
Panel 1

Six adorable kids from age 4 to 10 and of mostly caucasian backgrounds thunder into a sitting room where Leon, who looks 30, sits reading the news on a holo-tablet. Molly leads the gang.

Molly: Grandpa, tell us a story!

Kids: Yeah! Tell us a story!!

Kids: Yeah, Grandpa!

Panel 2

Leon sits forward in his chair looking playfully strict. We see the back of the child crowd.

Leon: First, being called 'Grandpa' makes me feel old. Second....

Panel 3

Medium close up of Molly, a feisty five-year-old with flaming, curly red hair and heavily freckled face.

Molly: But you are old, Grandpa!