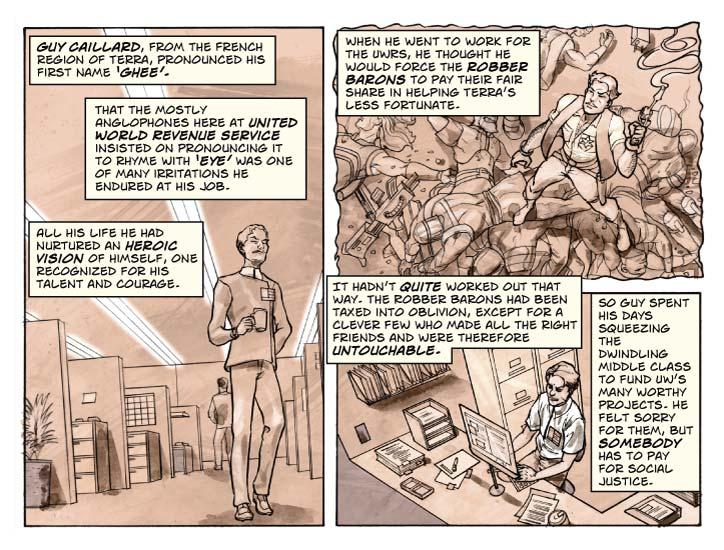 Strip 1 - Click on page above to goto the next page. -- First Seen: 2008-09-26
Escape From Terra is updated with new pages every Monday through Friday.

IGG Campaign Concludes
A Message From Alyss
So, we fell just a few hundred short of our goal, but that's okay, because it's a "Flexible Goal" meaning we still get the funds raised (minus Indiegogo's cut) so we can and will fulfill the promised perks.
We are grateful to all who contributed, and yes you are all now founding members of the "Free Cosmos Project," with all the privileges membership entitles you thereto. (Unless you don't want the honor, we'll respect that too.) Which for now means we'll be whipping up a spiffy little Certificate for each of you, physical versions sent out with the physical books requested, and PDF versions for the rest.
Indiegogo will disburse the funds to us soon. And we've already got the ball rolling printing books, and postcards, as well as the above-mentioned FCP certificates. And we'll be talking a bit more about the Free Cosmos Project in the coming weeks.
Thanks again and click on, me hearties, click on.
Referral Contest Update #2
Update: Inked Drawing
We still can use your help getting more people to contribute to our campaign with a referral contest. The campaign backer whose referrals raise the most money for our campaign, will win a one-of-a-kind ink-on-paper drawing of Alyss, Hugo and Murphy, drawn and water-colored by QUANTUM VIBE creator Scott Bieser!
Here's an inked drawing of what you might win: Alyss, Hugo and Murphy enjoying a rare vacation on Nuveau Mo'orea. Click on the image to see a larger version (in a new tab or browser window - depends on your browser settings). Stay tuned for more reveals. The final result will be a unique creation a real QUANTUM VIBE fan would love to have.
You must have an IndieGogo account to participate. Go to this page for more info on how to participate. Don't delay and risk missing out on the chance of winning a one-of-a-kind piece of original art. The campaign ends, July 5th, 2021.

The Transcript For This Page
Panel 1
Full-height panel, Guy Caillard – a small, wiry man with a pencil moustache -- is walking towards us down an office corridor. He is dressed in 22nd-Century style office clothing, and the corridor (along with all the interiors of this segment) have a simple/functional but also vaguely futuristic style. Clipped to his breast pocket is a 2"x3" ID badge. When you can see it up close, it has his mug-shot as the largest object, his printed name, a small bar-code and two magnetic strips.

Guy is holding a cup of coffee, and he has a desultory expression on his face.

Caption: Guy Caillard, from the French region of Terra, pronounced his first name 'Ghee'.

Caption 2: That the mostly Anglophones here at United World Revenue Service insisted on pronouncing it to rhyme with 'eye' was one of many irritations he endured at his job.

Panel 2
Dream-picture of a more heroic image of Guy, dressed something like a Wild-West Sheriff with a big star on his vest, standing over the corpses of the "robber barons," gazing across a bomb-blasted corporate boardroom in a domineering pose.

Caption: All his life he had nurtured an heroic vision of himself, one recognized for his talent and courage.

Caption 2: When he went to work for the UWRS, he thought he would force the robber barons to pay their fare share in helping Terra's less fortunate.

Panel 3
Medium elevated angle shot of Guy's cubicle, with the real Guy sitting at his desk. The cubicle is about 7x7 and is crammed full of paper files, folders, and envelopes both large and small – stacked up in piles around the place. There are drawers and cabinets but they are also stuffed There's barely room for a walkpath to Guy's chair. It looks absolutely dreary. Guy is taking a sip of his coffee while seated with ramrod straight posture facing the terminal display on his desk. The display looks something like a futuristic flatscreen monitor and keyboard, without cords. The desktop is also cluttered with stacks of papers and envelopes.

Caption: It hadn't quite worked out that way. The Robber Barons had been taxed into oblivion, except for a clever few who made all the right friends and were therefore untouchable.

Caption 2: So Guy spent his days squeezing the dwindling middle class to fund UW's many worthy projects. He felt sorry for them, but somebody has to pay for social justice.