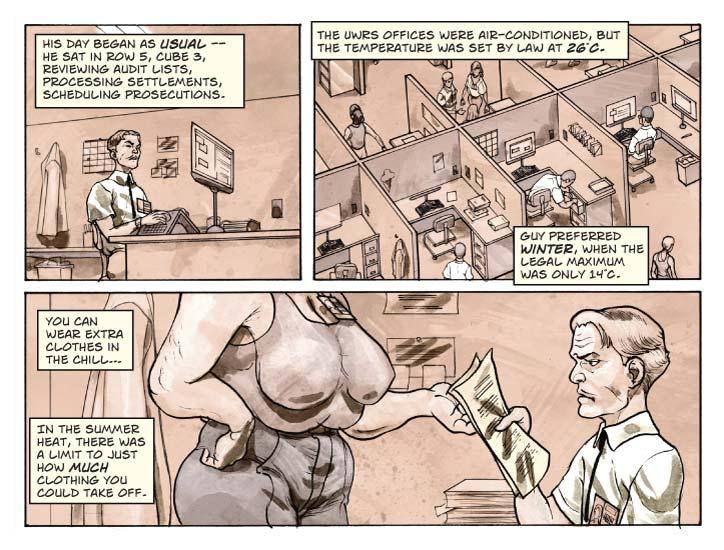 Strip 2 - Click on page above to goto the next page. -- First Seen: 2008-09-26
Escape From Terra is updated with new pages every Monday through Friday.

Not Safe
Starting Monday 4-25-2022, with part 3 of QUANTUM VIBE: This Means War, each strip installment has been extended to have six panels rather than four. We believe this will enable a smoother, fuller story flow for the reader. We will also be limiting uploads of QUANTUM VIBE to one installment per week so Scott has time to develop a new spin-off strip, Not-Safe.
Not-Safe will be a NSFW strip set in the Assimulation galaxy depicted in Volume 5, with Eithne Lamdagan as the central character. Our hope is it will bring in enough money so Scott can hire a colorist again and he can start producing more QUANTUM VIBE strips. More info coming soon.
QV8 Campaign Is Indie-Go-go!
Our Indiegogo campaign for part 2 of 3 of Quantum Vibe: This Means War is now live. Perks include the trade paperback, the ebook version, a 10 pack advertising distant future legal services, and a special offer t-shirt supporting the Free Cosmos Project.
The clock is ticking on this 45 day campaign. You do not want to miss out! Click the image or the link below to donate to our campaign and get those sweet, sweet perks.

The Transcript For This Page
Strip 2 – Life in UWRS

Panel 1
Medium-close shot of Guy at desk looking at some paperwork, while speaking to someone via a headset he's put on. POV could be from monitor or from a point either side of the monitor, we want to see his face.

This is the face of a man who hates his job even more than he realizes -- and yet has the sort of pride in himself that he undertakes to do the best he can at it. His eyes seem to express a permanent annoyance.

It's also a bit warm in the office – he has taken off his jacket and has loosened his collar. He has a bit of sweat on his brow.

Caption: His day began as usual – he sat in row 5, cube 3, reviewing audit lists, processing settlements, scheduling prosecutions.

Panel 2
Wide shot of cubicle area. We see around a dozen occupied cubes but not necessarily the people in them, other office drone types of variouis shapes and sizes walking about or stopped in a cube doorway talking to its inhabitant. Everyone is in "shirtsleeves" (some of them wear armless shirts), all of them wearing their badges, a few fanning themselves with whatever papers they're holding.

Caption: The UWRS offices were air-conditioned, but the temperature was set by law at 26°C.

Caption 2: Guy preferred winter, when the legal maximum was only 14°C – you can wear extra clothes in the chill…

Panel 3
Medium shot of Guy in his cube talking to some woman clerk – he's handing her some paperwork. She is a 90-kg woman wearing clothes that used to fit when she weighed 55 – a stretch tank-top that's not large enough to conceal the brassiere that doesn't support well, and a pair of Post-Office-cut shorts – wide-cut legs that go to about an inch above the knee. It looks like she'll burst out of them any second. Her ID Badge dangles from one of her shirt-straps.

He is sitting with his head at roughly her rib-cage level and looks at her sagging breasts with even more annoyance.

Caption 3: In the summer heat, there was a limit to just how much clothing you could take off.