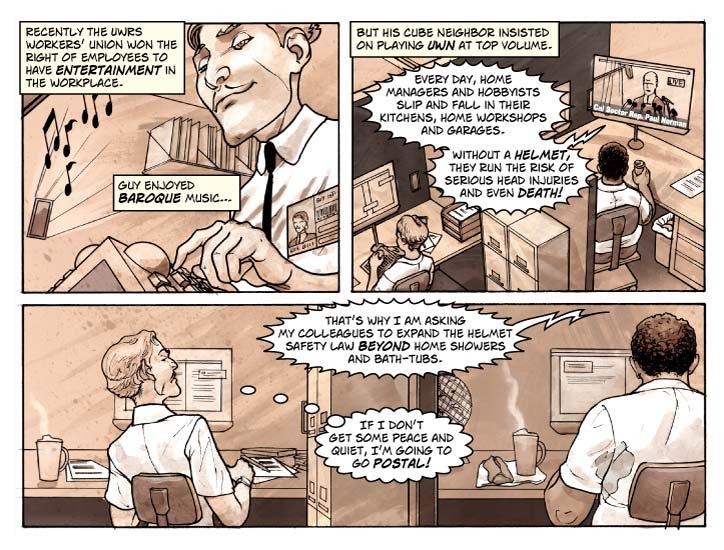 Strip 3 - Click on page above to goto the next page. -- First Seen: 2008-09-26
Escape From Terra is updated with new pages every Monday through Friday.

IGG Campaign Concludes
A Message From Alyss
So, we fell just a few hundred short of our goal, but that's okay, because it's a "Flexible Goal" meaning we still get the funds raised (minus Indiegogo's cut) so we can and will fulfill the promised perks.
We are grateful to all who contributed, and yes you are all now founding members of the "Free Cosmos Project," with all the privileges membership entitles you thereto. (Unless you don't want the honor, we'll respect that too.) Which for now means we'll be whipping up a spiffy little Certificate for each of you, physical versions sent out with the physical books requested, and PDF versions for the rest.
Indiegogo will disburse the funds to us soon. And we've already got the ball rolling printing books, and postcards, as well as the above-mentioned FCP certificates. And we'll be talking a bit more about the Free Cosmos Project in the coming weeks.
Thanks again and click on, me hearties, click on.
Referral Contest Update #2
Update: Inked Drawing
We still can use your help getting more people to contribute to our campaign with a referral contest. The campaign backer whose referrals raise the most money for our campaign, will win a one-of-a-kind ink-on-paper drawing of Alyss, Hugo and Murphy, drawn and water-colored by QUANTUM VIBE creator Scott Bieser!
Here's an inked drawing of what you might win: Alyss, Hugo and Murphy enjoying a rare vacation on Nuveau Mo'orea. Click on the image to see a larger version (in a new tab or browser window - depends on your browser settings). Stay tuned for more reveals. The final result will be a unique creation a real QUANTUM VIBE fan would love to have.
You must have an IndieGogo account to participate. Go to this page for more info on how to participate. Don't delay and risk missing out on the chance of winning a one-of-a-kind piece of original art. The campaign ends, July 5th, 2021.

The Transcript For This Page
Strip 3 – That damned noise

Panel 1
Guy touches a button on the corner of his keyboard, and some musical notes flow out of a pair of what looks like playing cards adhered to the cub walls close to him. They are speakers.

Caption: Recently the UWRS workers' union won the right of employees to have entertainment in the workplace. Guy enjoyed baroque music…

Panel 2
Looking at the cubes from above, we can see Fat Slob in the next cube. Fat Slob is sort of the opposite of Guy – personally a mess but keeps a neat cube, as he does as little as possible. He also has a large flat HDTV screen on his cube wall that is running a UWN newscast at high volume. We see some smarmy pol in a suit talking to microphones.

At the bottom of the screen is an ID line for the TV network and the subject as "Cal Sector Rep. Paul Norman" (it's okay if the tag line is not entirely legible at size)

Caption: But his cube neighbor insisted on playing UWN at top volume.

Norman (on HDTV): Every day, home managers and hobbyists slip and fall in their kitchens, home workshops and garages. Without a helmet, they run the risk of serious head injuries and even death!


Panel 3
Medium close-up of Guy looking really, really annoyed.

Norman (continues from last panel): That's why I am asking my colleagues to expand the helmet safety law beyond home showers and bath-tubs.

Guy (small letters, grumbling to himself): If I don't get some peace and quiet, I'm going to go postal!