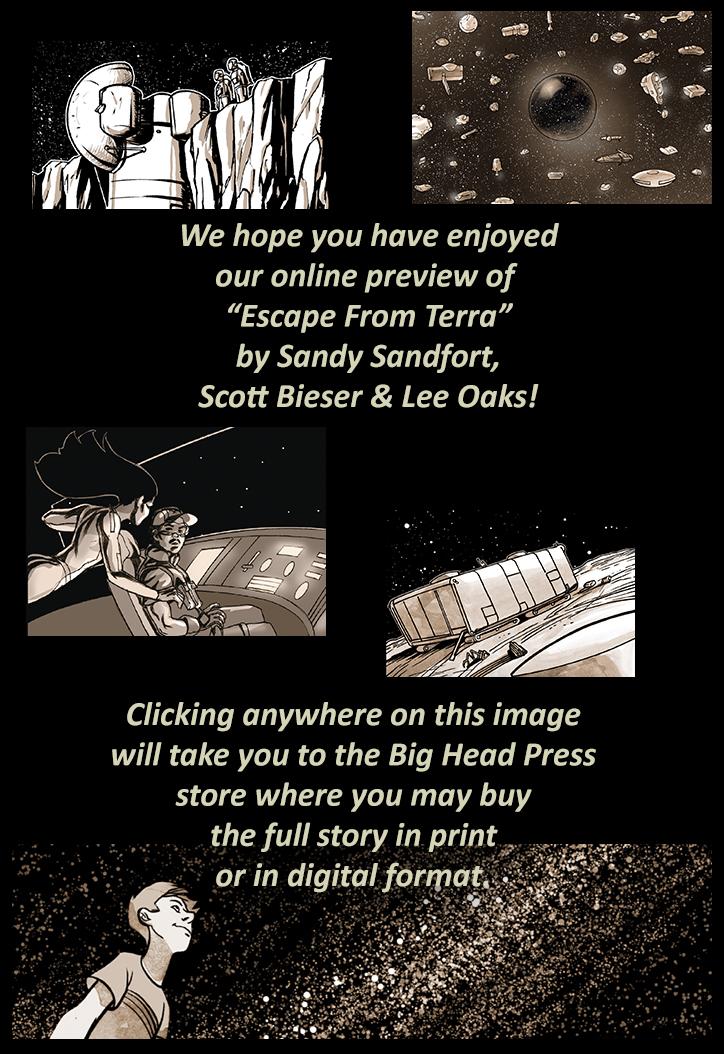 Strip 868 -- First Seen: 2012-01-13
Escape From Terra is updated with new pages every Monday through Friday.

Not Safe
Starting Monday 4-25-2022, with part 3 of QUANTUM VIBE: This Means War, each strip installment has been extended to have six panels rather than four. We believe this will enable a smoother, fuller story flow for the reader. We will also be limiting uploads of QUANTUM VIBE to one installment per week so Scott has time to develop a new spin-off strip, Not-Safe.
Not-Safe will be a NSFW strip set in the Assimulation galaxy depicted in Volume 5, with Eithne Lamdagan as the central character. Our hope is it will bring in enough money so Scott can hire a colorist again and he can start producing more QUANTUM VIBE strips. More info coming soon.
QV8 Campaign Is Indie-Go-go!
Our Indiegogo campaign for part 2 of 3 of Quantum Vibe: This Means War is now live. Perks include the trade paperback, the ebook version, a 10 pack advertising distant future legal services, and a special offer t-shirt supporting the Free Cosmos Project.
The clock is ticking on this 45 day campaign. You do not want to miss out! Click the image or the link below to donate to our campaign and get those sweet, sweet perks.

The Transcript For This Page
Panel 1
Group shot of our heroes sitting around the coffee table. Focus is on Bert, who is speaking. Drenkowski is sitting somewhere to the right of Bert. Arana is close to his left side.
Bert: Okay, let's recap:
Bert: Mac, Nisa, Ernie and I will be transported to the Groom Lake facility by Commander Drenkowski in his almost-invisible spaceplane.
Drenkowski: The Free Bird.

Panel 2
Closer shot on Bert, angled so we can also see a smiling Arana.
Bert: Yeah, great name suggestion, Arana.
Bert: The Commander will keep the motor running, while the rest of us go in to get Neanne and Nowra.

Panel 3
Medium close-up on Bert.
Bert: The rest of Nowra's family were shipped home a couple of decadays ago.
Bert: That simplifies things, but it also tells us we may not have a lot of time.

Panel 4
High angle shot of the whole group again, Bert gesturing as he speaks.
Bert: Ernie and I will act as lookouts and provide suppressing fire – but only as a last resort.
Bert: We want to waltz in and out with nobody being the wiser.

Panel 5
Shot including Tobi, flanked by Nisa and Mac, listening to Bert.
Bert (OP): Nisa and Mac will go in and locate Neanne and Nowra, and escort them out.
Bert (OP): We'll comm Nowra when we land so they'll be ready.

Panel 6
Final group shot, lower angle, focus on Bert. Some of the characters will have to have their backs to us.
Bert: Ernie and I will cover the rear, then Drenkowski will fly us out.
Bert: Easy peasy, lemon-squeezy.
Caption (at bottom): 'No campaign plan survives first contact with the enemy' – General Helmuth Graf von Molktke