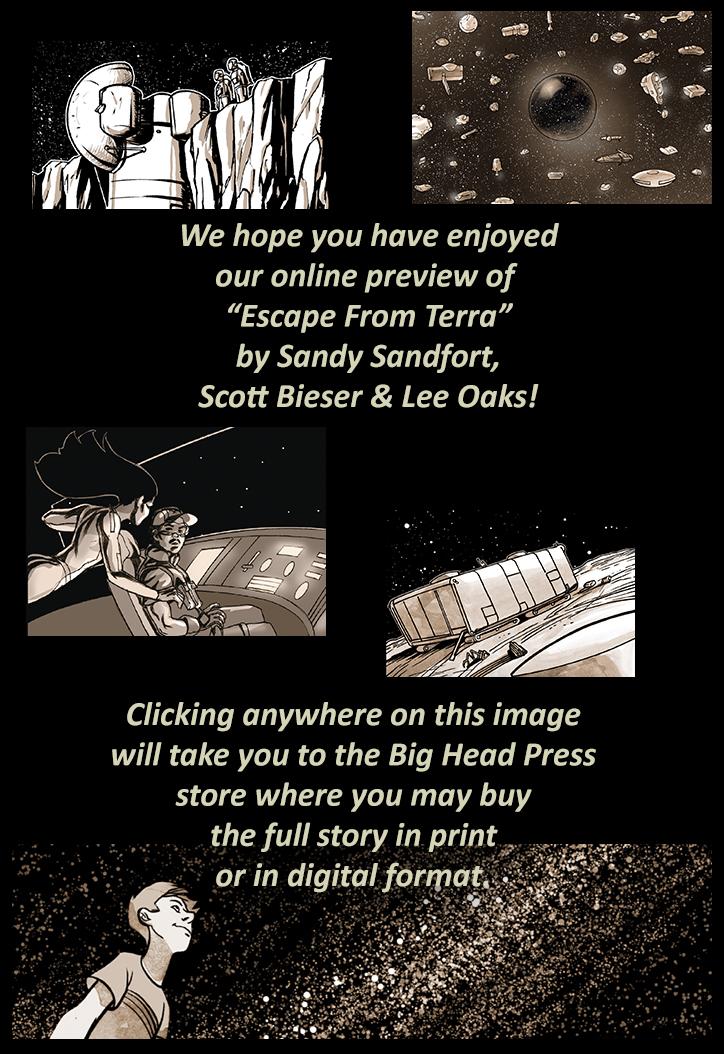 Strip 799 -- First Seen: 2011-10-10
Escape From Terra is updated with new pages every Monday through Friday.

SubscribeStar Update: All Systems Go!
The QUANTUM VIBE page on SubscribeStar is now open for business.
Those seeking an alternative to Patreon for supporting Scott and Quantum Vibe, SubscribeStar is another option. Paypal is not available with SubsribeStar, but credit cards are accepted. Plans for accepting crypto-payments are in the works. Stay tuned.
Coming soon: SubscribeStar
Scott here.
I'm aware many of my erstwhile Patreon supporters have left the platform altogether, and I'm assuming most of you are upset by Patreon's recent politically-biased culling of "deplorables."
The good news is now an alternative to Patreon is again available, and it is called SubscribeStar. The bad news is this site has received so many applications for accounts that they're behind on verification/approvals.
So, if you like you can go look at my page there (https://www.subscribestar.com/quantum-vibe ) but you can't subscribe just yet. When the approval happens we will make an announcement here.
In the meanwhile, those of you with Bitcoins or Ether can always send me some love at the wallet addresses listed under the big Patreon button.
Thanks and please keep reading.

The Transcript For This Page
Panel 1
In Guy's apartment, Pierre and Guy still seated and with their drinks. Pierre is now leaning forward, elbows on knees, looking defiantly at Guy. Guy is surprised by the accusation
Guy: What's the matter?
Pierre: This is all your fault, you know.
Pierre: You know the UW is in a financial crisis – even after issuing a lot more Continentals, which should have gotten the economy going again.
Panel 2
Pierre presses on.
Pierre: They still found it necessary to furlough many in the bureaucracy. I lost my position in the second round of cuts.
Pierre: I don't blame you personally, but you Belters continue jacking up the prices of all the raw materials we need!
Panel 3
Pierre sits straight up, delivering what he thinks is a important truth. Guy looks at him blankly.
Pierre: It just isn't fair.
Pierre: The bounty of space is the common heritage of all mankind!
Panel 4
Same shot, not Guy is breaking out into spasms of laughter. Now Pierre looks surprised.
Guy: HAW HAW HAW HAW HAW HAW