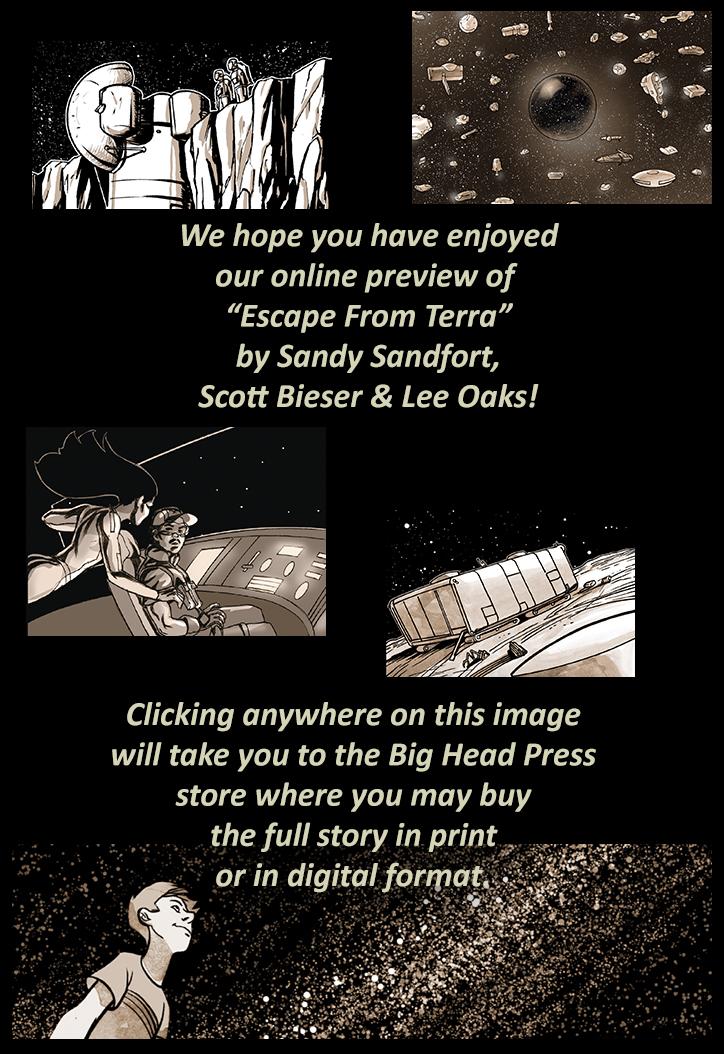 Strip 703 -- First Seen: 2011-05-16
Escape From Terra is updated with new pages every Monday through Friday.

More Goodies To Come!
As another incentive, when we hit our first goal of $7,000, we will add a new perk to the mix: the trade paper back including a mini-version (8.5" x 11:) of the full size poster we'll be adding when we hit our first stretch goal. As announced last week, the art is still in-progress and we'll post more updates on the poster as Scott is able to refine it.
And to correct last week's post, the full size poster will be 18" x 24".
Help us reach our goal by continuing to spread the word! And if you haven't contributed yet, then click on the image and help us out.
The Incentive
Our IndieGoGo campaign got off to a strong start, but now it's time to add more incentive, so...
Check out the work-in-progress sample of the official promotional poster for Quantum Vibe: This Means War (Part 1).
The finished poster will be made available to donors when we make our first stretch goal of $10,000. It will be offered in two sizes: 8.5" x 11" (which can be mailed flat) and 18" x 24" (which must be shipped in a tube).
So please help us make this poster a reality, check out our campaign page if you haven't already, and choose the best reward tier for you.

The Transcript For This Page
Panel 1
Large panel, establishing the scene at Gaucho's. It's a circular indoor arena, with the open kitchen in a pit surrounded by tiers of guest tables. The chef can be seen sporting a billowy toque, white chef's jacket and baggy striped pants. Babbette and Reggie are seated at one of the tables. A few fancy-looking waiters can be seen doing waiter things – carrying orders, refilling drinks, etc.
Caption: At Gaucho's, the chefs and waiters were all from Argentina and steeped in its tradition of dining elegance.
Babbette: Who would have thought it? Argentine cattle on Mars.
Babbette: Grazing free-range under a low, flat airskin.

Panel 2
Small panel, two-shot of Babbette and Reggie, sipping wine.
Caption: Their 'Napa Valley' wine in this case came from a domed crater established by California vintners.

Panel 3
Reggie is looking at Babbette with 'bedroom eyes.' Babbette lays a hand on his.
Babbette: Not yet, my love. I still have something up my sleeve.