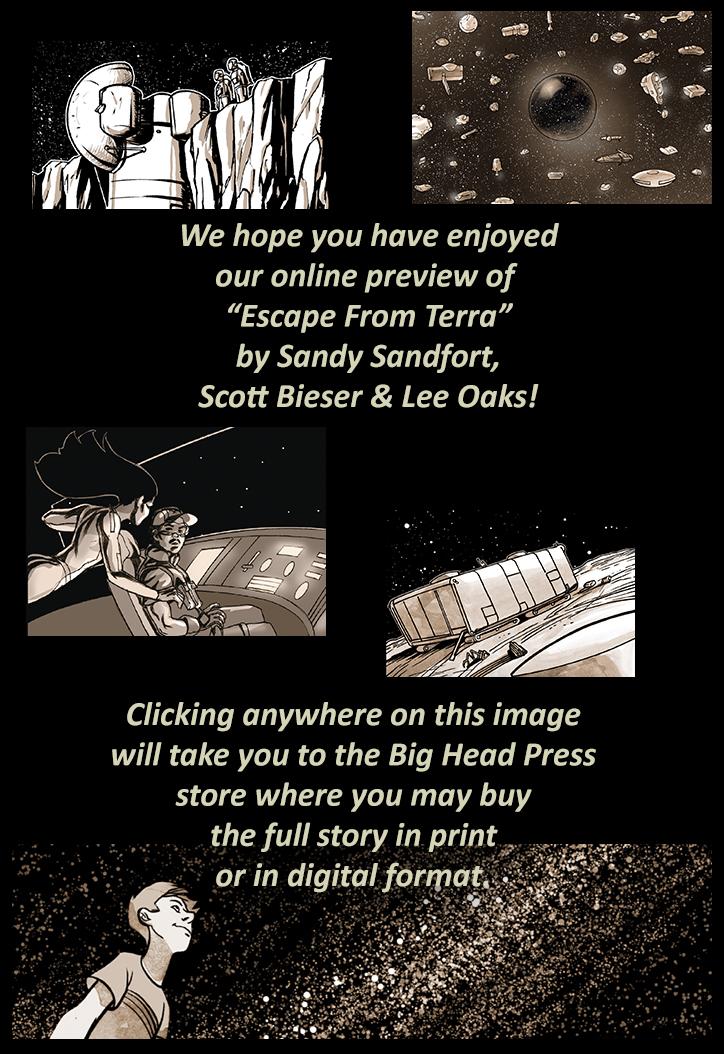 Strip 616 -- First Seen: 2011-01-17
Escape From Terra is updated with new pages every Monday through Friday.

Get The EFT Collection!
Looking for an escape while you wait? You might want to consider an Escape From Terra. All 3 volumes can now be yours for a mere $19.95 USD. Get yours now while supplies last!
Quantum Vibe on MeWe!
Calling all Quantum Vibe fans! Tired of not getting timely updates for Quantum Vibe on Facebook? Wish there was a social media site that allowed it's users to communicate with everyone who's interested? Well wait no longer.
Quantum Vibe now has a MeWe group on MeWe. If you're already a MeWe user, then just click on the MeWe picture on this article and it will take you straight to the Quantum Vibe MeWe group page. Once you join the group you know you won't miss a thing going on in the Quantum Vibe universe.
Sign up today!

The Transcript For This Page
Panel 1
Very large panel, establishing shot of the owners' stateroom aboard the Delta Free. It is large and luxurious, with a round bed, overstuffed chairs and sofas, a large writing desk, elegant but tasteful decorations (including potted plants, framed paintings, small statuary, fine drapery, and a doorway to one side leading to a lavish bathroom. There is also a mini-galley/wet bar, a large salon with a sophisticated entertainment center, and an enclosed balcony with a view of space. In short, it is epic posh. We won't be able to see everything in this one shot but keep the details in mind for future panels.
In this scene, Captain Kruger has personally escorted Babbette and Reggie to the suite. Nearby, four suitcases – their luggage – reside on luggage trays. Babbette is agape as she takes it all in. Reggie simply smiles.
Caption: The owners' stateroom aboard the Delta Free:
Kruger: Your suite, my friends. And if you need anything at all, just ask.
Babbette: It's good to be the king.
Reggie: I'm just a simple man of the cloth, thespian … and partial owner of this ship.