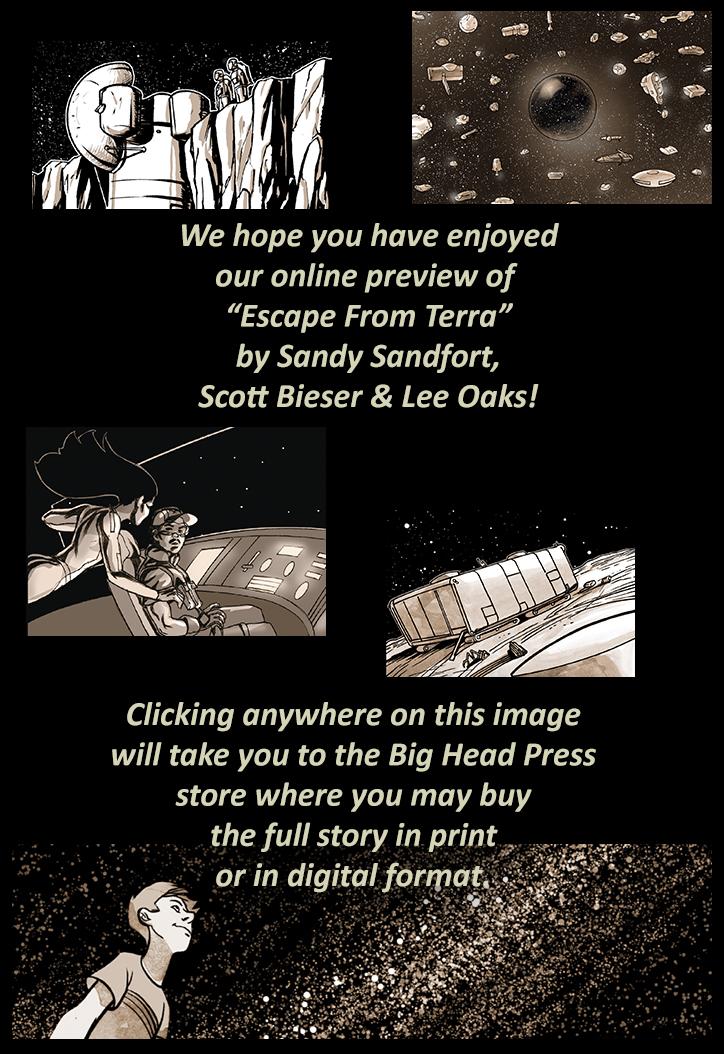 Strip 867 -- First Seen: 2012-01-12
Escape From Terra is updated with new pages every Monday through Friday.

A Short Break For the Holidays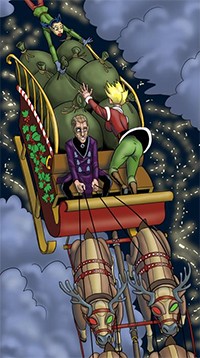 Hey gang, it's that time of the year again when folks step away from their computers and enjoy family and friends. We'll be doing that here at Big Head Press too.
Quantum Vibe will be update free next week. But never fear, we'll have 3 new strips the first week of the year starting Wednesday, January 2nd 2019.
Any of our U.S. readers wishing to purchase Big Head Press titles via Paypal for direct shipping, if you place your order after Saturday December 22nd, it will ship after new year's day. We will work to get them out as quickly as we can after we return.
We at Big Head Press would also like to thank all our readers for their support and wish you all safe and happy holidays.
About the Patreon Contretemps
Scott here.
Patreon's recent moves to de-platform some popular YouTube personalities who have upset a censorious subset of progressives has alarmed all of us who value an ethic of open discussion, even when opinions expressed are sometimes quite difficult to tolerate. Maybe especially then.
I have had several Patrons drop out of the system and ask me to set up an account with an alternative subscriber service. However, there seems to be a Twitter-based activist group of "Social Justice Warriors" which can attack and shut down alternative services lest they become a haven for the wrong crowd. Maker-Support and SubscribeStar have both fallen victim to these racketeers.
Now, I know that some of my readers are here because they like my politics, but many others don't care about the politics but enjoy the stories. And all of you are important to me. But some of you want an alternative subscription service and I am open to any such that seems able to withstand assaults from the Blue Meanies. I have word of such a system in the works and will adopt it quickly if it pans out.
I'm also following Minds.com and Steamit.com, which offer a means for people to support creators, but they deal in crypto-currencies, which at present are not as easy for most people to deal with as their national currencies. But new innovations may change this, so I haven't written them off either.
In the meanwhile, I'm sticking with Patreon, out of financial necessity. If and when I make a move to either add an alternate service or replace Patreon, I will announce it here and elsewhere. And I understand those of you who cannot bring yourselves to consider supporting me through Patreon and will happily welcome you back when I can offer you a better choice.
Thanks for hanging in there with me!

The Transcript For This Page
Panel 1
Focus on Bert. We can see Ernie (to the right of Bert) and a few of the others in the room, standing close by.
Bert: Okay, Tobi, thanks for sharing. So, moving right along.
Bert: We have our own opera to plan. You know, the usual.

Panel 2
Now the focus is more shared between Ernie and Bert. Ernie had turned to remark to Bert. The others we can see are all grinning.
Bert: Rescue a teenage Neanderthal girl from Area 51 in a UFO. Piece of cake.
Ernie: Wasn't that a Doctor Who episode?

Panel 3
Wide shot of the group now sitting in the chairs around the coffee table. There are several cups and glasses on the table, or in people's hands.
Caption: Bert revealed the plan he and Tobi had cooked up. In discussion, the original plan was largely scrapped, but a new plan eventually emerged.