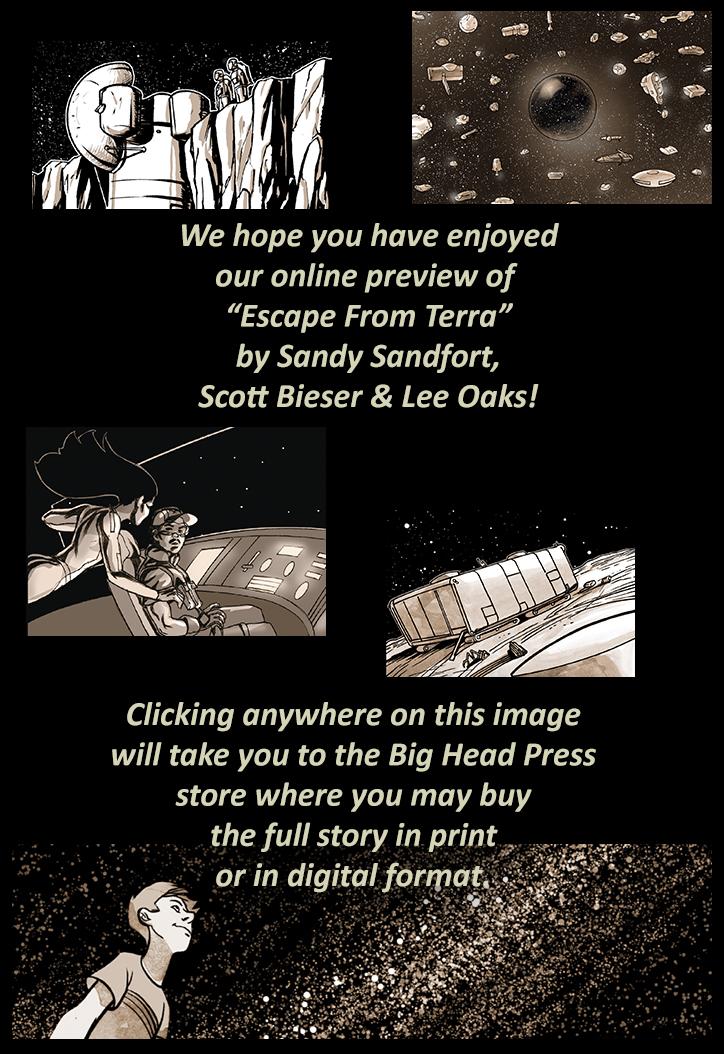 Strip 106 -- First Seen: 2009-02-09
Escape From Terra is updated with new pages every Monday through Friday.

Roswell, Texas Deluxe Pre-Launch Deal
As we get ready to launch our Roswell, Texas Deluxe Indiegogo campaign next week, we have an early bird deal to offer. If you sign up to our campaign before the campaign starts, you will get a 15% discount on your contribution to help us print 500 copies of the limited deluxe edition of the popular retro-sci-fi comedy romp. By signing up, you will receive updates on the campaign as well.
To sign up for our early-bird special, just go to our Indiegogo Roswell, Texas Rides Again campaign pre-launch page. And stay tuned for more announcements!
Roswell, Texas - Full Color Hard Bound
ROSWELL, TEXAS, the retro-sci-fi comedy romp written by L. Neil Smith and Rex F. May, and illustrated by Scott Bieser and Jen Zach, is getting a new lease on life from Big Head Press. The new deluxe printed graphic novel will be in a full-color, larger format hard-back book, and limited to 500 copies available exclusively through Indiegogo.com, the crowd-funding platform. This new edition will also include an afterward by Rylla Smith, daughter of author L. Neil Smith, who discorporated in late August.>
The crowd-funding campaign is scheduled to commence October 25, ending November 23. Stay tuned for more announcements.

The Transcript For This Page
Panel 1
We are back in the UWRS High Commissioner's office. This time Guy is absent, instead, his Chief stands on the other side of the desk. (This time we will have varying angles rather than one shot used repeatedly.)

High Commissioner: 80 Billion Continentals. This 'King Reginald' character must think we're idiots.

Chief: Our legal department confirms that his reading of our laws and treaties is correct.

Panel 2
Medium close-up of the High Commissioner, banging his fist on his desk with barely-contained anger
HC: Then we need a new legal department! Laws exist to help us implement policy, not to impede us!

Panel 3
Looking over the HC's shoulder at the Chief, who is looking uncomfortable.

HC: This is on the QT, understand? Our internal financial projections indicate we face a world-wide meltdown if we don't get an infusion of Three Trillion Continentals into our system.

Panel 4
Two-shot of HC and Chief, whatever angle you like so that we can see both of their faces.

Chief: Why don't we go after the tax havens here on Earth?

HC: If we did we'd be stepping on the toes of very powerful people. Smarten up.