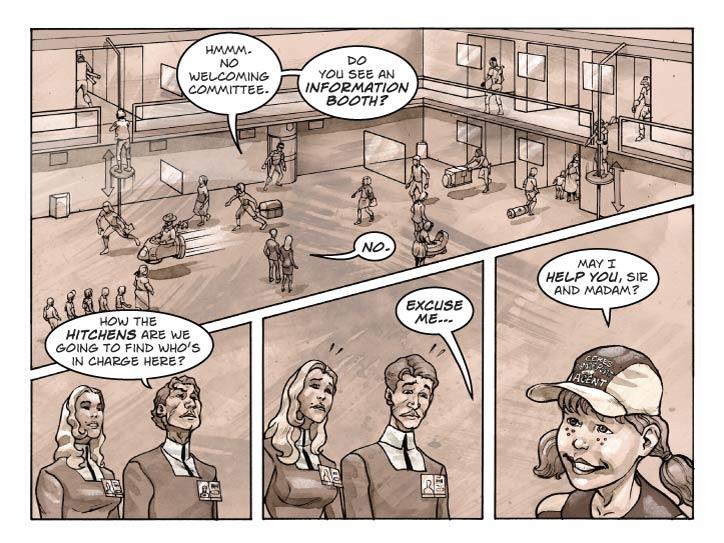 Strip 13 - Click on page above to goto the next page. -- First Seen: 2008-10-01
Escape From Terra is updated with new pages every Monday through Friday.

Roswell, Texas Deluxe Pre-Launch Deal
As we get ready to launch our Roswell, Texas Deluxe Indiegogo campaign next week, we have an early bird deal to offer. If you sign up to our campaign before the campaign starts, you will get a 15% discount on your contribution to help us print 500 copies of the limited deluxe edition of the popular retro-sci-fi comedy romp. By signing up, you will receive updates on the campaign as well.
To sign up for our early-bird special, just go to our Indiegogo Roswell, Texas Rides Again campaign pre-launch page. And stay tuned for more announcements!
Roswell, Texas - Full Color Hard Bound
ROSWELL, TEXAS, the retro-sci-fi comedy romp written by L. Neil Smith and Rex F. May, and illustrated by Scott Bieser and Jen Zach, is getting a new lease on life from Big Head Press. The new deluxe printed graphic novel will be in a full-color, larger format hard-back book, and limited to 500 copies available exclusively through Indiegogo.com, the crowd-funding platform. This new edition will also include an afterward by Rylla Smith, daughter of author L. Neil Smith, who discorporated in late August.>
The crowd-funding campaign is scheduled to commence October 25, ending November 23. Stay tuned for more announcements.

The Transcript For This Page
Strip 13

Panel 1
Wide shot of the bustling spaceport terminal. Guy and Fiorella are looking about, trying to get their bearings. We see more than a dozen people moving about, most doing the peculiar Cererean glide-walk, some portering large boxes of material on carts on spindly wheels and with pairs of 20cm fans mounted at the front and back. Two or three are bounding Superman-like from the floor level to hatchways located 3-4 meters above the floor, or gliding down to the floor from the upper level via railings placed for that purpose.

Guy: Hmmm. No welcoming committee.

Guy (2): Do you see an information booth?

Fiorella: No.

Panel 2
Two-shot of Guy and Fiorella, close enough we only see them from chest-up. They're still looking around. Guy is exasperated.

Guy: How the Hitchens are we going to find who's in charge here?

Panel 3
Same shot, only now Guy and Fiorella are a bit startled by the voice coming from below the panel frame.

Voice: Excuse me…


Panel 4
Looking down on BABBETTE GUZMÁN. She appears to be an 11-year-old girl, with wavy red hair and vaguely Asiatic eyes, and is wearing a baseball cap with "Ceres Spaceport Agent" silk-screened across the front.


Babette: May I help you, sir and madam?