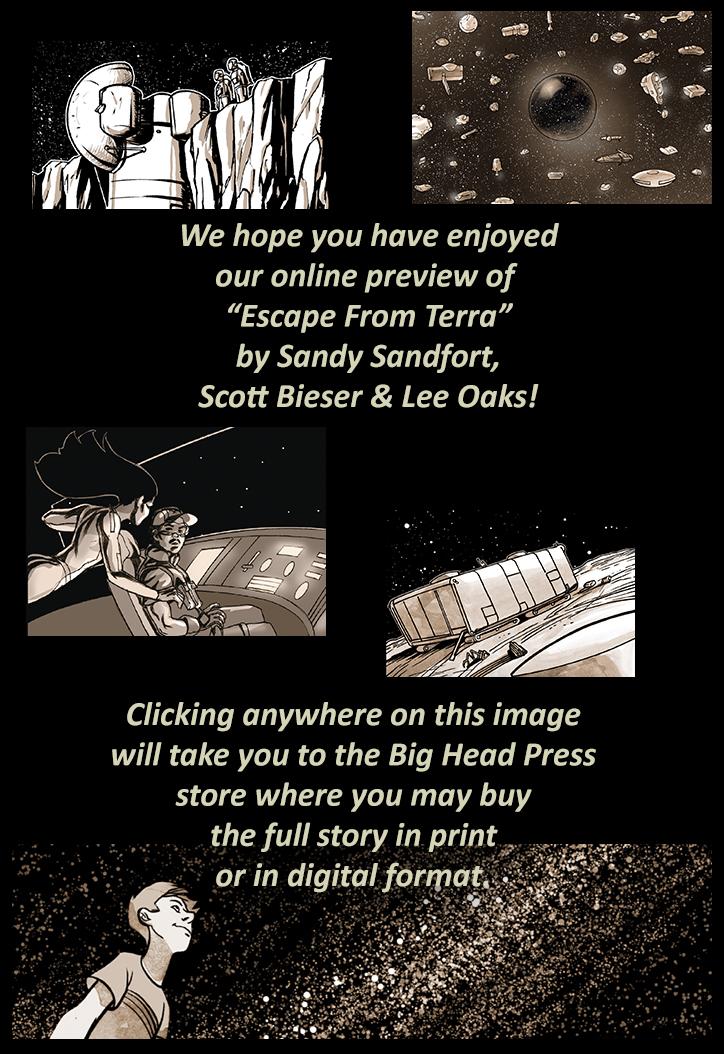 Strip 139 -- First Seen: 2009-03-26
Escape From Terra is updated with new pages every Monday through Friday.

Get The EFT Collection!
Looking for an escape while you wait? You might want to consider an Escape From Terra. All 3 volumes can now be yours for a mere $19.95 USD. Get yours now while supplies last!
Quantum Vibe on MeWe!
Calling all Quantum Vibe fans! Tired of not getting timely updates for Quantum Vibe on Facebook? Wish there was a social media site that allowed it's users to communicate with everyone who's interested? Well wait no longer.
Quantum Vibe now has a MeWe group on MeWe. If you're already a MeWe user, then just click on the MeWe picture on this article and it will take you straight to the Quantum Vibe MeWe group page. Once you join the group you know you won't miss a thing going on in the Quantum Vibe universe.
Sign up today!

The Transcript For This Page
Panel 1
Still in Reggie's office. Reggie is speaking to Harris through his computer, and with his left hand discreetly waving away Guy, who has stood up and is leaning over the desk now, in response to having heard his name.

Reggie: No, really. It was a ruse. We lied to Caillard.

Reggie (2): There is no government here to surrender to you. Nobody here speaks for anyone but themselves.
Panel 2
Small panel, close-up of Harris' quietly malevolent face on the holoscreen.

Harris (electronic): You are not hearing me, Reginald.

Harris (2): Do you know who I am?

Panel 3
Reggie replies. His expression is one of utter disdain.
Reggie: Yes, I know who you are, Butcher Harris.

Reggie (2): You are the 'hero' of the Albanian Police Action. You used directed-energy weapons against any village that did not immediately follow your orders to surrender.

Panel 4
Smallish panel, close-up of Guy, who has sat down again, looking a little queasy as he listens to Reggie.

Reggie (out of frame): You burned innocent men, women and children to death, from the inside out, with their own superheated bones.

Reggie (2): Yes, I know who you are.