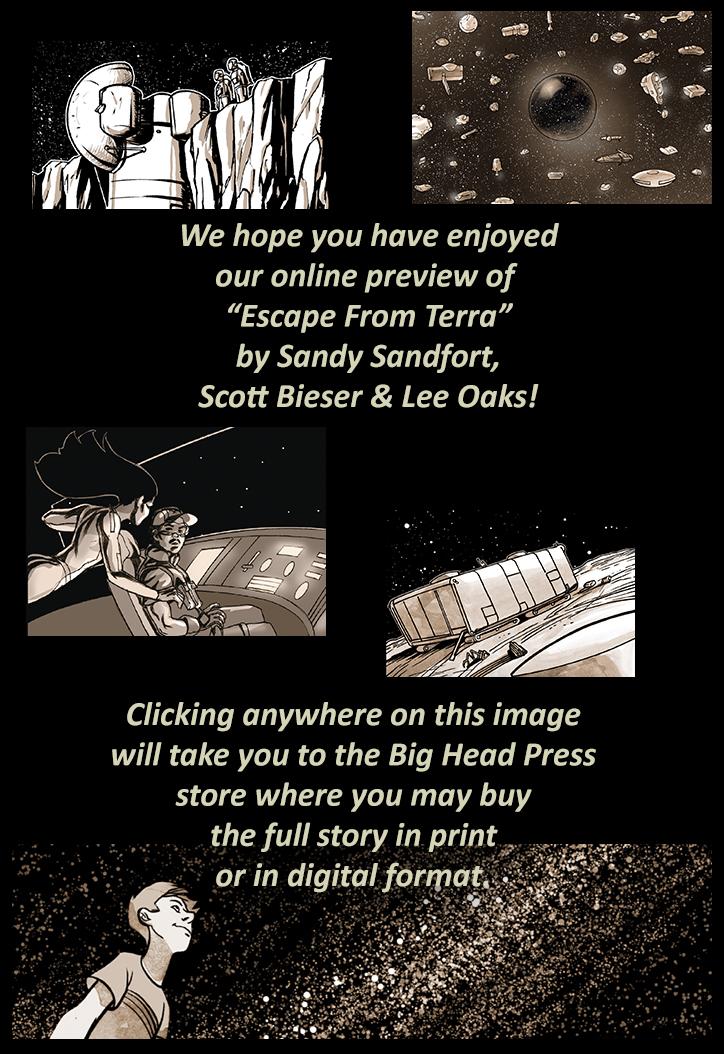 Strip 172 -- First Seen: 2009-05-12
Escape From Terra is updated with new pages every Monday through Friday.

Get The EFT Collection!
Looking for an escape while you wait? You might want to consider an Escape From Terra. All 3 volumes can now be yours for a mere $19.95 USD. Get yours now while supplies last!
Quantum Vibe on MeWe!
Calling all Quantum Vibe fans! Tired of not getting timely updates for Quantum Vibe on Facebook? Wish there was a social media site that allowed it's users to communicate with everyone who's interested? Well wait no longer.
Quantum Vibe now has a MeWe group on MeWe. If you're already a MeWe user, then just click on the MeWe picture on this article and it will take you straight to the Quantum Vibe MeWe group page. Once you join the group you know you won't miss a thing going on in the Quantum Vibe universe.
Sign up today!

The Transcript For This Page
Panel 1
Medium shot of a defiantly angry Harris, with a frightened Young next to him.

Harris: Can we dispense with this show trial? This kangaroo court is a joke.

Harris (2): Contact the UW, cut a deal and get me off this overgrown iceberg.

Panel 2
Medium shot of Reggie, flanked by Bert and Fiorella. All looking deadly serious.

Reggie: Unlike Terra, there are no kangaroos or kangaroo courts on Ceres.

Reggie (2): This is how we deal with the likes of you.


Panel 3
Medium close-up on Reggie

Reggie: The reason you are both here, is to give you a chance to say something in your defense, if you wish.

Reggie: De León's widow is in deep mourning and has chosen not to participate, as is her right.

Panel 4
Angle shot past Reggie, Fiorella, Guy, and Ernie, where we can see Emily Rose entering the room, leaning on the arm of Babbette the Younger. Reggie is still facing the prisoners.

Reggie: Then Emily Rose will decide, if she so wishes, what is to be done with you.

Reggie: Otherwise, I will claim that privilege.