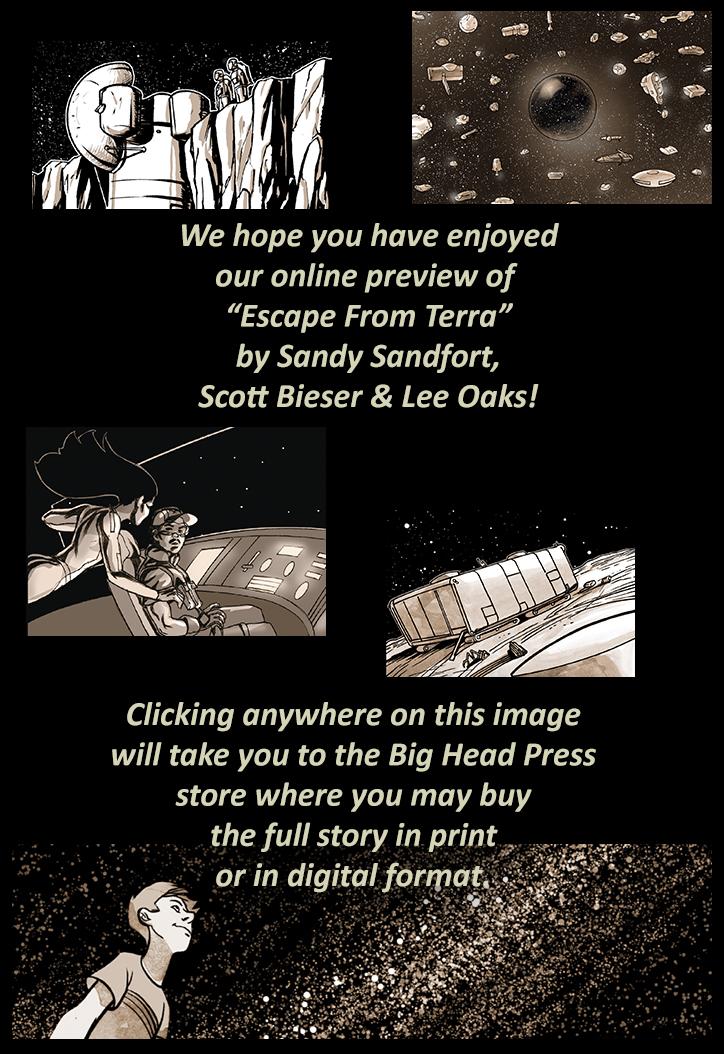 Strip 175 -- First Seen: 2009-05-15
Escape From Terra is updated with new pages every Monday through Friday.

Get The EFT Collection!
Looking for an escape while you wait? You might want to consider an Escape From Terra. All 3 volumes can now be yours for a mere $19.95 USD. Get yours now while supplies last!
Quantum Vibe on MeWe!
Calling all Quantum Vibe fans! Tired of not getting timely updates for Quantum Vibe on Facebook? Wish there was a social media site that allowed it's users to communicate with everyone who's interested? Well wait no longer.
Quantum Vibe now has a MeWe group on MeWe. If you're already a MeWe user, then just click on the MeWe picture on this article and it will take you straight to the Quantum Vibe MeWe group page. Once you join the group you know you won't miss a thing going on in the Quantum Vibe universe.
Sign up today!

The Transcript For This Page
Panel 1
Re-establish the scene: Looking from above and behind the captive Young and Harris, Emily steps past Reggie to speak with Bert. We can also see Fiorella and her camera.

Caption: As the surviving member of the murdered Rose family, it is left to Emily to decide the fate of Admiral Harris and his weapons officer.

Emily: Sov. Guzmán, my guns were destroyed when my home ...

Panel 2
Medium close-up of Emily, pausing in a fight against the urge to cry. Her head is bowed forward, here eyes clamped shut, her mouth clenched, tears streaming down her face.

No dialog.

Panel 3
Same camera angle, now she's standing straight and wiping the tears away on her sleeve.

Emily: My guns were destroyed.

Panel 4
Two-shot of Bert and Emily. Bert is handing Emily his Colt 1911 (nothing fancy, although it does have adjustable sights).

Emily: May I borrow your colt?
Panel 5
Emily has moved towards Harris and now stands before him, the Colt gripped in both of her hands, pointed downward at the moment. Put her in the left part of the frame and Harris in the right. We also see Young in the far right of the frame, eyes as large as saucers. Harris is scornfully defiant as ever.

Harris: Is this supposed to scare me?


Panel 6
Close-up on Harris, laughing.

Harris : Hand a teenager an unloaded gun so she can psychologically terrorize me?

Harris (2): Don't try to teach your grandmother how to suck eggs.

Harris (3): Do your damnedest, little girl.


Panel 7
Two-shot from the side, Emily shoots Harris square in the chest. If room permits show Young looking on in horror.

SFX: BLAMM!!