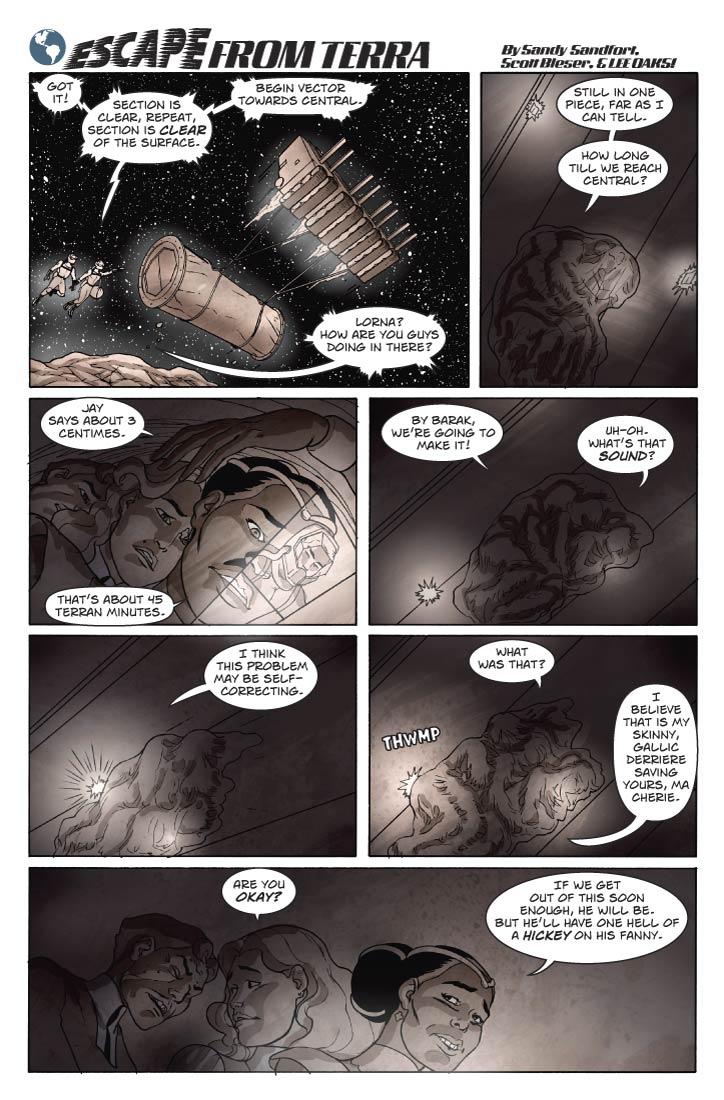 Strip 80 - Click on page above to goto the next page. -- First Seen: 2009-01-02
Escape From Terra is updated with new pages every Monday through Friday.

Get The EFT Collection!
Looking for an escape while you wait? You might want to consider an Escape From Terra. All 3 volumes can now be yours for a mere $19.95 USD. Get yours now while supplies last!
Quantum Vibe on MeWe!
Calling all Quantum Vibe fans! Tired of not getting timely updates for Quantum Vibe on Facebook? Wish there was a social media site that allowed it's users to communicate with everyone who's interested? Well wait no longer.
Quantum Vibe now has a MeWe group on MeWe. If you're already a MeWe user, then just click on the MeWe picture on this article and it will take you straight to the Quantum Vibe MeWe group page. Once you join the group you know you won't miss a thing going on in the Quantum Vibe universe.
Sign up today!

The Transcript For This Page
Strip 80

Panel 1
Larger panel (leave some room for the logo). The forkbots have just started pulling Section 12-327 away from the asteroid surface, as Bert and Jay hover close-by in their spacesuits.

Jay: Got it! Section is clear, repeat, Section is clear of the surface.

Jay (2): Begin vector towards Iron Works.

Bert: Lorna? How are you guys doing in there?


Panel 2
Inside the darkened Section, all we see of Guy, Fiorella and Lorna is a cocoon of thermal blanket.


Lorna (from inside cocoon): Still in one piece, far as I can tell. How long till we reach Iron Works?


Panel 3
Inside the cocoon, tight close-up three-shot of Guy, Fiorella, and Lorna. Lorna is speaking to her companions


Bert (from Lorna's comm.): Jay says about 3 centimes.

Lorna: That's about 45 Terran minutes.

Panel 4
Oustide the cocoon again.

Guy: By Barak, we're going to make it!

Fiorella: Uh-oh. What's that sound?

SFX: sssssssssssssssssssssssssssssssssss




Panel 5
The cocoon drifts towards the source of the hissing, a small crack in one bulkhead.

Guy: I think this problem may be self-correcting.

Panel 6
Drawn by the escaping air, cocoon bumps up against the bulkhead crack. There's a bit of a bend in the cocoon to indicate the part of the cocoon making contact is somebody's butt.

SFX: Thwmp

Fiorella: What was that?

Guy: I believe that is my skinny, Gallic derriere saving yours, ma Cherie.

Panel 7

Inside the cocoon, tight shot of Guy, Fiorella, Lorna. Guy is grimacing as his flesh is getting slowly sucked into the crack. Fiorella looks at him with concern. Lorna is trying hard not to grin.

Fiorella: Are you okay?

Lorna: If we get out of this soon enough, he will be. But he'll have one hell of a hickey on his fanny.