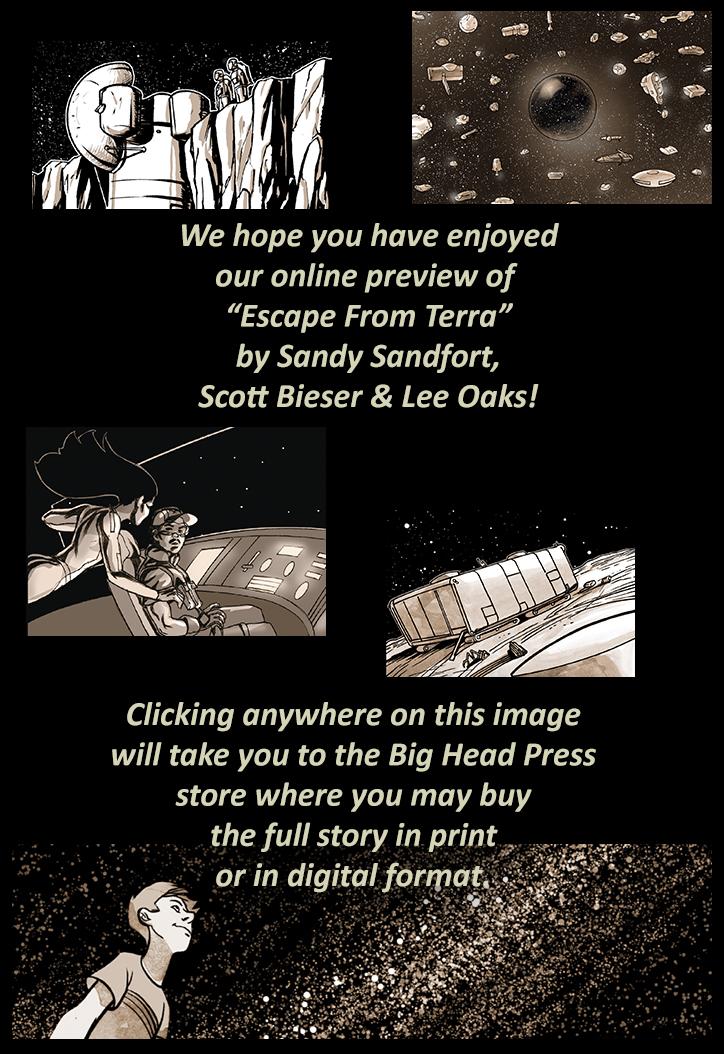 Strip 166 -- First Seen: 2009-05-04
Escape From Terra is updated with new pages every Monday through Friday.

Quantum Vibe: Château Périlleux Now On KIndle & DriveThru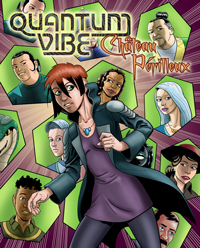 The hiatus is over, but now's still a good time to go back and read the previous volume of QUANTUM VIBE: Château Périlleux. Now available in digital format on Kindle and Drive Thru Comics!
QUANTUM VIBE: Château Périlleux asks how does a society without a formal government deal with crime and criminal conspiracies? In the far-future space-city known as Bubbleopolis, they do it with a mixture of wit, grit, and a culture based on rolling up one's sleeves and doing what must be done. Diana Martelli, a recent arrival, likes to call it compassionate individualism. And speaking of, young Diana is tasked with finding out who killed a supposedly un-killable android -- and uncovers a conspiracy which shakes the very foundations of the city and its culture.
As a bonus, we've added sixteen pages of "The Trial", a supplement to "Château Périlleux" which was not included in the printed version. Enjoy!
Get The EFT Collection!
Looking for an escape while you wait? You might want to consider an Escape From Terra. All 3 volumes can now be yours for a mere $19.95 USD. Get yours now while supplies last!

The Transcript For This Page
Panel 1
On the bridge of the Gamma, Captain Kruger looks upward towards the Split-Tail at station-keeping "above". We can see an apprehensive-looking Weapons Officer in the middle background behind him, also looking upward.

Kruger: Now what, Ms. Stellina?

Kruger: I do not want any harm to come to my people, so we need to discuss terms.

Panel 2
Medium shot of Fiorella inside the mining ship Split-Tail.
Fiorella: After you land, we board your ships and remove your weapons.

Fiorella (2): They will work pointing up, right?

Panel 3
In Guy's office, Guy and Bert are listening in on the conversation. They smile in response to what Fiorella is saying here.

Fiorella (filtered): We want to be able to use them in the future, in case your masters send us any more visitors, capisci?