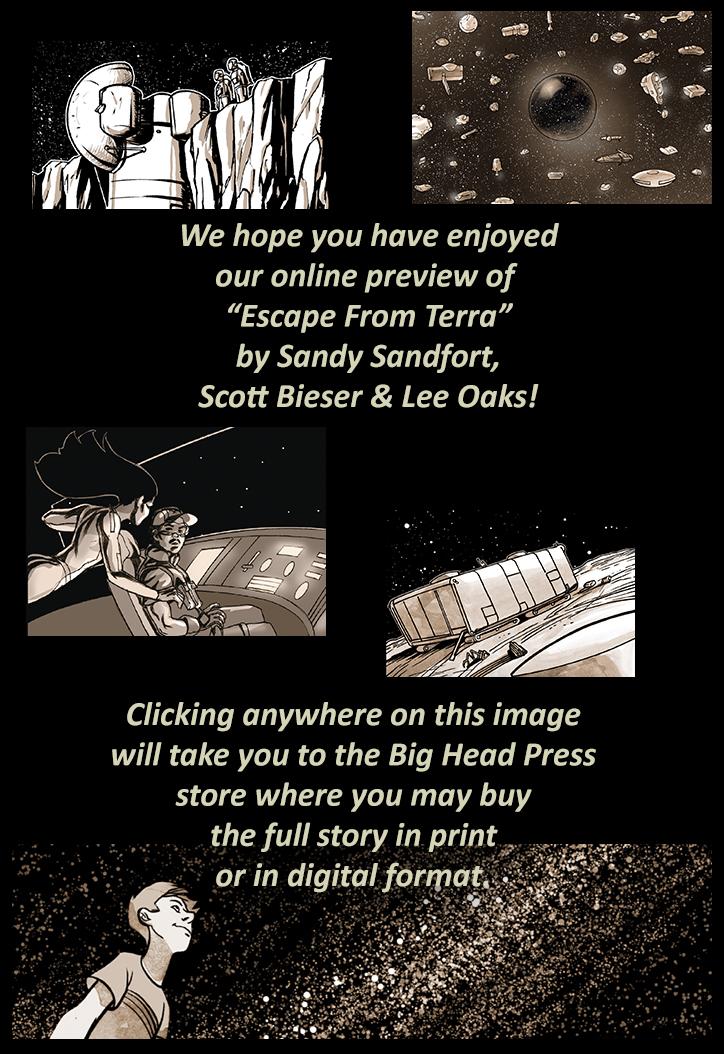 Strip 181 -- First Seen: 2009-05-25
Escape From Terra is updated with new pages every Monday through Friday.

Quantum Vibe: Château Périlleux Now On KIndle & DriveThru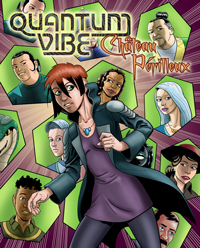 The hiatus is over, but now's still a good time to go back and read the previous volume of QUANTUM VIBE: Château Périlleux. Now available in digital format on Kindle and Drive Thru Comics!
QUANTUM VIBE: Château Périlleux asks how does a society without a formal government deal with crime and criminal conspiracies? In the far-future space-city known as Bubbleopolis, they do it with a mixture of wit, grit, and a culture based on rolling up one's sleeves and doing what must be done. Diana Martelli, a recent arrival, likes to call it compassionate individualism. And speaking of, young Diana is tasked with finding out who killed a supposedly un-killable android -- and uncovers a conspiracy which shakes the very foundations of the city and its culture.
As a bonus, we've added sixteen pages of "The Trial", a supplement to "Château Périlleux" which was not included in the printed version. Enjoy!
Get The EFT Collection!
Looking for an escape while you wait? You might want to consider an Escape From Terra. All 3 volumes can now be yours for a mere $19.95 USD. Get yours now while supplies last!

The Transcript For This Page
Panel 1
Establishing shot of the Water Bros. Cafe interior, looking towards the entrance. In the foreground we see Alexander Smyth glide-walking towards the cashier stand, which is not in this frame. Make Smyth resemble John Cleese, as he was around age 45 – hair still mostly black, with a moustache, and a touch of grey at the temples. He's obviously not a Belter, dressed in a pin-striped suit, but manages the Cererean glide-walk quite well. He is carrying an attaché case.

Behind Smyth, we see The Pale Man, a very non-descript man in plain clothes, just coming through the doorway.

Let's give the café a bit of an upgrade – the chairs at the tables (but not the bar) have backs on them now. Nothing fancy, but enough to provide some lumbar support. The tables are shaped as before but now they have dark, polished tops.

There are a few other customers seated at the booths and tables, but not many.

Caption: One fine day at the Water Brothers establishment:

Smyth: Excuse me, madam ….

Panel 2
Smyth is now standing at the cashier's stand, and we see Babbette the elder behind it.
Smyth: I am Alexander Smyth.

Smyth (2): I would like to discuss a possible business arrangement with the proprietor of your ice mining concern.

Panel 3
Two-shot of Smyth and Babbette. Smyth is blushing at Babbette's bawdy joke. Side view so we can see both of their faces. Babbette is smiling sweetly.

Babbette: Well, I haven't been a madam in years ...


Panel 4
Two-shot of Smyth and Babbette. Now Smyth is looking a bit confused.
Babbette: … but I can introduce you to my sons, Robert and Ernesto – but everybody calls them Bert and Ernie.