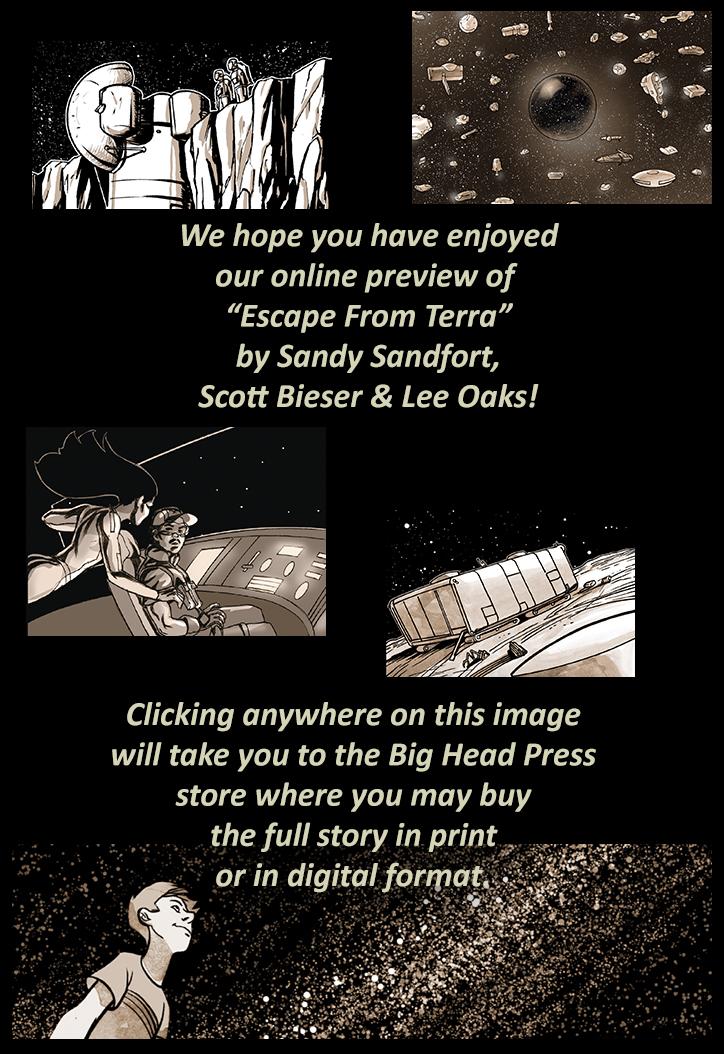 Strip 187 -- First Seen: 2009-06-02
Escape From Terra is updated with new pages every Monday through Friday.

SubscribeStar Update: All Systems Go!
The QUANTUM VIBE page on SubscribeStar is now open for business.
Those seeking an alternative to Patreon for supporting Scott and Quantum Vibe, SubscribeStar is another option. Paypal is not available with SubsribeStar, but credit cards are accepted. Plans for accepting crypto-payments are in the works. Stay tuned.
SubscribeStar update: Not yet
The QUANTUM VIBE page on SubscribeStar is open, although the site seems to be going through some growing pains.
For that reason I'm advising Patrons looking to switch over, to wait a little while longer. I subscribed to a couple of channels there and there are some billing issues. If they get cleared up within a week, I'll announce the ALL CLEAR and invite everyone unhappy with Patreon to come over.

The Transcript For This Page
Panel 1
Interior of the Water Bros. Office. It's about 12x14 feet, has two desks with the usual futuristic accessories, some filing cabinets, a dart board, a sofa, two extra chairs positioned somewhat hap-hazardly. Walls festooned with photographs, plaques, etc. although not so many as in Reggie King's office. Most of the photographs are of the Ice Hammers hockey team and players. Show a hockey stick propped up in a corner. There should be a back door. (not everything has to be in this panel)

We see the brothers from behind, walking into their lair.

Ernie: Sorry about the 'Kessel Run' comment ...

Ernie (2): Last night I was in the total immersion VR re-release of Star Wars. I played the Han Solo role.


Panel 2
Medium 2-shot of Ernie and Bert. Ernie is his usual devil-may-care self, Bert is getting exasperated.

Ernie: Anyway, we got the gig.

Bert: Ernie, we don't have a ship, Millennium Falcon or otherwise.


Panel 3
Ernie holds his left index finger up in a classic 'aha!' pose. Bert has a hand on his own forehead like he's getting a headache.

Ernie: Yeah, but Reggie has a burner-tug that he rents out to newbies until they can afford to fab their own.