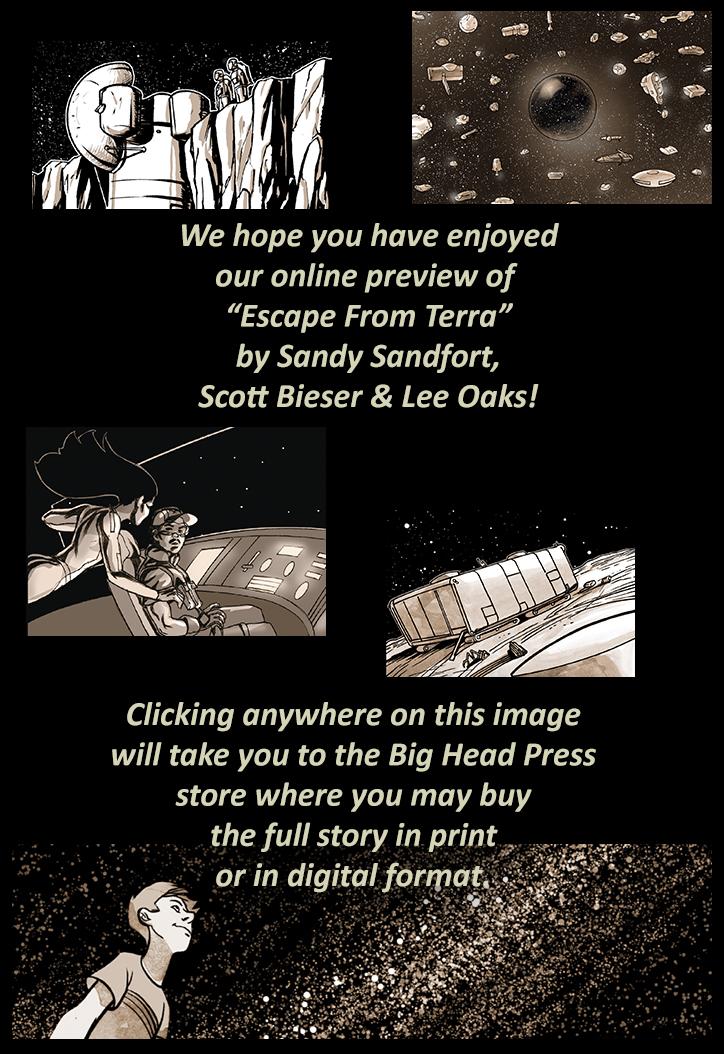 Strip 211 -- First Seen: 2009-07-06
Escape From Terra is updated with new pages every Monday through Friday.

Quantum Vibe: Château Périlleux Now On KIndle & DriveThru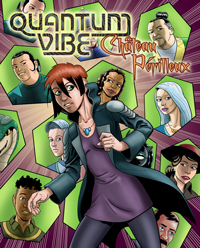 The hiatus is over, but now's still a good time to go back and read the previous volume of QUANTUM VIBE: Château Périlleux. Now available in digital format on Kindle and Drive Thru Comics!
QUANTUM VIBE: Château Périlleux asks how does a society without a formal government deal with crime and criminal conspiracies? In the far-future space-city known as Bubbleopolis, they do it with a mixture of wit, grit, and a culture based on rolling up one's sleeves and doing what must be done. Diana Martelli, a recent arrival, likes to call it compassionate individualism. And speaking of, young Diana is tasked with finding out who killed a supposedly un-killable android -- and uncovers a conspiracy which shakes the very foundations of the city and its culture.
As a bonus, we've added sixteen pages of "The Trial", a supplement to "Château Périlleux" which was not included in the printed version. Enjoy!
Get The EFT Collection!
Looking for an escape while you wait? You might want to consider an Escape From Terra. All 3 volumes can now be yours for a mere $19.95 USD. Get yours now while supplies last!

The Transcript For This Page
Panel 1
Wide panel, aerial shot of the Rolls driving through what looks like a suburban neighborhood still under construction, some houses just frames, others nearly finished, saplings planted in some yards, etc..

Bert (from inside car): So how do you explain the gravity here?

Ernie (from inside car): How long has this project been going on?

Bert: Who is going to live in these homes?

Ernie: Why all the secrecy, anyway?

Panel 2
Inside the Rolls. The brothers are seated side-by side in the back bench-seat. We are looking forward past them, towards the front seat. On the left is Drenkowski, turned part way towards the brothers with his right arm resting on the seat-back. On the right side (this is a right-hand drive) we can see the steering wheel, a bit of the classic original instrumentation, and a high-techy looking box mounted on the dash board – the computer which is actually driving the vehicle.

Drenkowski: In due time, gentlemen, in due time.

Panel 3
Reverse view. Now we're looking from the front dash past Drenkowski at the brothers in the back seat, each gazing out the window on his own side, looking a bit put off. Drenkowski smiles his enigmatic smile.

The brothers: ….