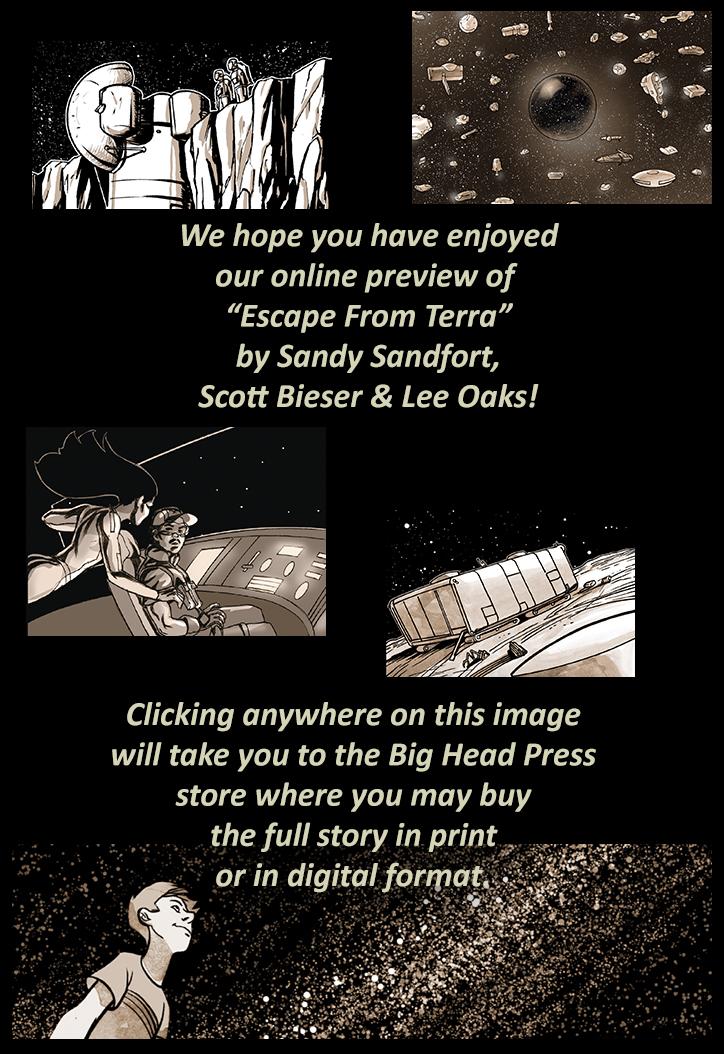 Strip 224 -- First Seen: 2009-07-23
Escape From Terra is updated with new pages every Monday through Friday.

Get The EFT Collection!
Looking for an escape while you wait? You might want to consider an Escape From Terra. All 3 volumes can now be yours for a mere $19.95 USD. Get yours now while supplies last!
Quantum Vibe on MeWe!
Calling all Quantum Vibe fans! Tired of not getting timely updates for Quantum Vibe on Facebook? Wish there was a social media site that allowed it's users to communicate with everyone who's interested? Well wait no longer.
Quantum Vibe now has a MeWe group on MeWe. If you're already a MeWe user, then just click on the MeWe picture on this article and it will take you straight to the Quantum Vibe MeWe group page. Once you join the group you know you won't miss a thing going on in the Quantum Vibe universe.
Sign up today!

The Transcript For This Page
Panel 1
Another illustrative panel. A 20-years-younger Tobi, this time dressed in cargo pants and a [pizza stained] t-shirt under a loose, open-fronted hoodie, is in the left side of the frame, closing a knife-type switch mounted on a wall which is positioned in the middle of the panel. On the right is a great tangle of white looping lines against a dark background that has stars in it – a sort of stylistic representation of Tanglenet. [Let's make sure the reader understands this a stylized concept. Maybe the Tanglenet concept is shown in a thought bubble above Tobi.]
Tobi (OP): Tanglenet was one of the most disruptive technologies in human history, because it fulfilled the Internet's promise.

Panel 2
A darkened conference room full of powerful-looking people seated at a long table, with one of them at the end pointing at some graphs on a large (51" diagonal) HDTV display.
Tobi (OP): Forget the phone, television or the Internet. The Tanglenet hurt governments way more.

Panel 3
Silhouettes of two men, facing each other, talking on their cellphones. Outline the phones so we can see them. One of the silhouettes is wearing a short-brimmed fedora. The other one is wearing a turban.

Tobi: Tanglenet cannot be eavesdropped on, traced, or jammed.

Tobi (2): Any dissident group, rebels, smugglers, or even terrorists can communicate, share info and make plans in complete secrecy.


Panel 4
Back at Tobi's table, medium shot of Tobi sipping on his tea.
Tobi: Imagine what fears that put in the hearts of repressive governments everywhere.