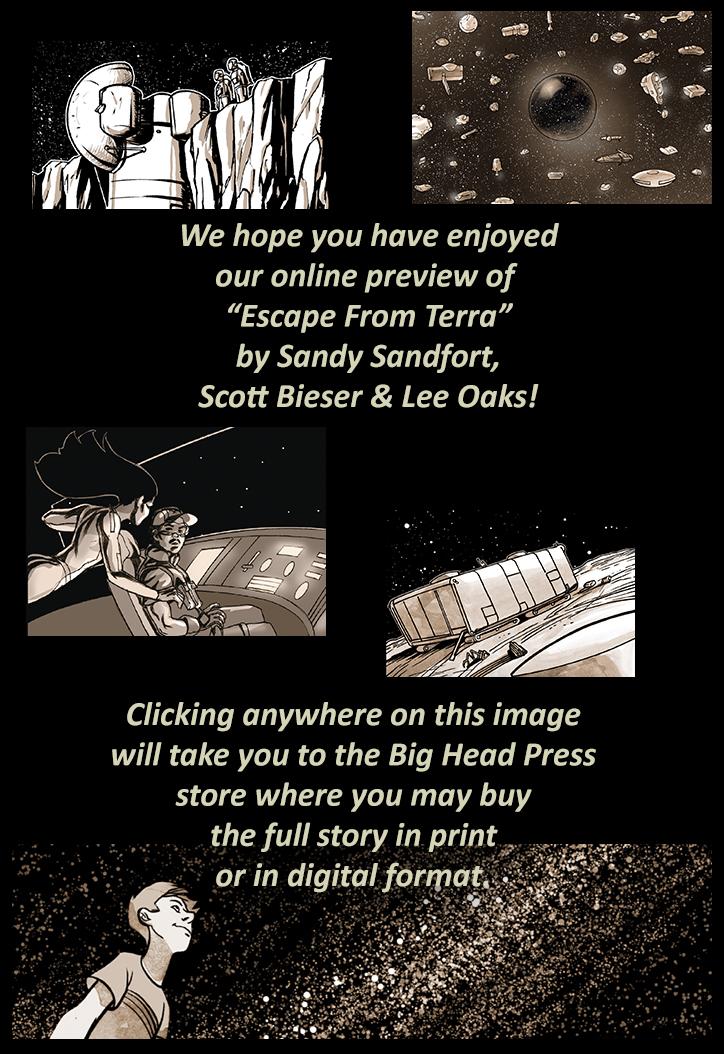 Strip 273 -- First Seen: 2009-09-30
Escape From Terra is updated with new pages every Monday through Friday.

Hot Off The Press!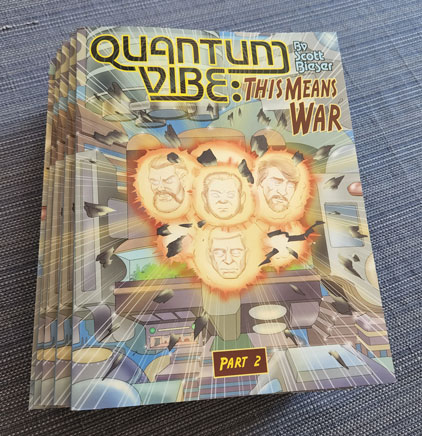 Hey gang! Good news. The books have arrived from the printer.
Over the next couple of weeks, we will be working to get the books signed, and all other perks sorted, organized, and ready for shipping.
Stay tuned for more updates as we get ready to ship. And thanks again to all our donors and patrons who help keep Quantum Vibe going.
We Made It!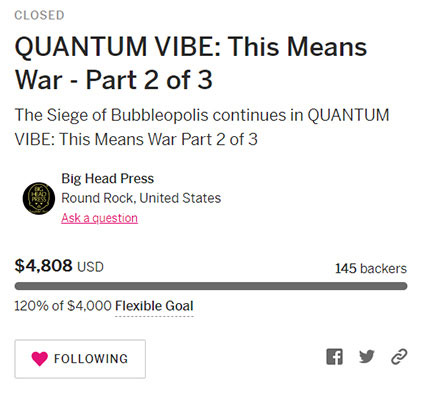 Third try, as they say, is a charm.
The crowdfunding campaign for QUANTUM VIBE: This Means War Part 2 made its goal one day before the closing, and climbed a bit over the top in the final day.
Over the next week Scott will design the back cover and assemble the book pages for printing. We expect to have the printed books (as well as the cards and T-shirts) on hand in the second half of June and will ship them out to backers ASAP.
(The e-book version will also be released by then and we'll announce that date when we have it locked down.)

The Transcript For This Page
Panel 1
Medium ¾ shot of Reggie, leaning back against the table behind him. He has a very slight smile.

Reggie: Okay, I get it.

Reggie: Back in the day, commercial and military pilots saw lots of strange things in the sky.

Panel 2
Wider shot, including side-view of Reggie and some of the students, who are starting to relax a bit. They are figuring out Reggie doesn't think they're crazy.

Reggie: Those that honestly reported what they saw, were taken off flight duty.

Reggie: Their bosses didn't want to have 'crazy' pilots in control over heavy armaments or the lives of hundreds of passengers.

Panel 3
Looking at Irina and some of the other students, looking back at Reggie with growing appreciation and trust.

Reggie: Of course, the law of unintended consequences made sure any pilot – crazy or not – who saw something out of the ordinary 'kept mouth shut' too.


Panel 4
Medium shot of Reggie, in a thoughtful pose.

Reggie: Okay, tell me about the music.