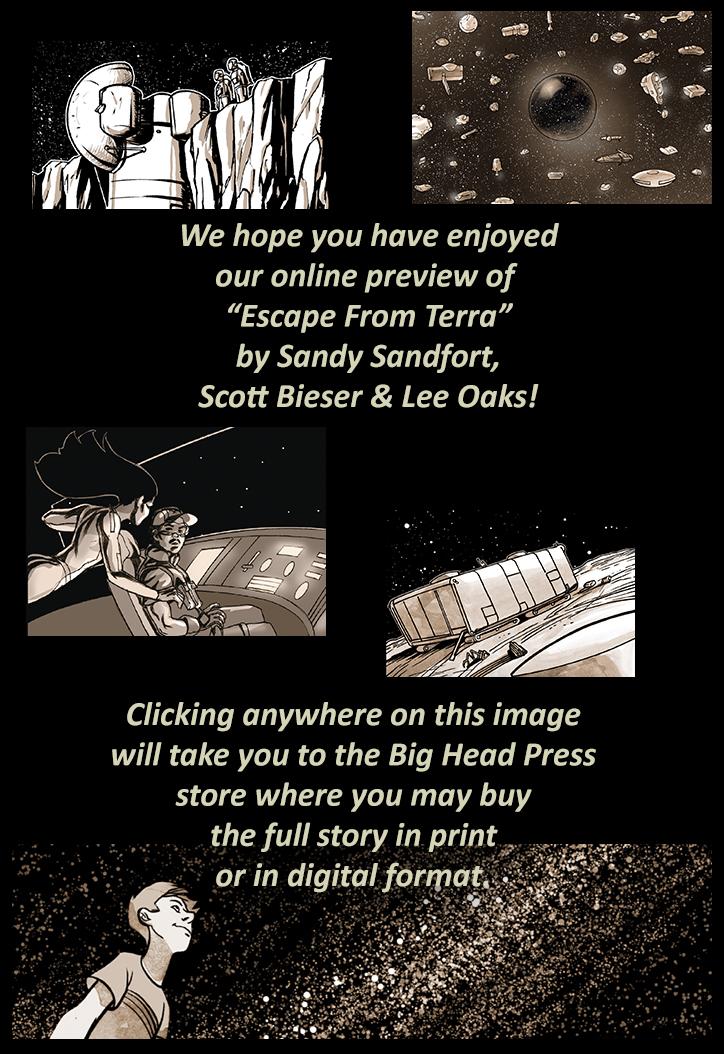 Strip 423 -- First Seen: 2010-04-21
Escape From Terra is updated with new pages every Monday through Friday.

Get The EFT Collection!
Looking for an escape while you wait? You might want to consider an Escape From Terra. All 3 volumes can now be yours for a mere $19.95 USD. Get yours now while supplies last!
Quantum Vibe on MeWe!
Calling all Quantum Vibe fans! Tired of not getting timely updates for Quantum Vibe on Facebook? Wish there was a social media site that allowed it's users to communicate with everyone who's interested? Well wait no longer.
Quantum Vibe now has a MeWe group on MeWe. If you're already a MeWe user, then just click on the MeWe picture on this article and it will take you straight to the Quantum Vibe MeWe group page. Once you join the group you know you won't miss a thing going on in the Quantum Vibe universe.
Sign up today!

The Transcript For This Page
Panel 1
Robyn, in a jail-type jumpsuit, is mopping a floor in an institutional-type office area (dingy walls, cheap furniture, linoleum floor). On Robyn's right, a female guard is playfully stroking Robyn's cheek. Robn glares back at her.

Caption (Robyn): 'While in the Youth Authority, a female correction officer came onto me. I told her to keep her hands to herself.'

Panel 2
Robyn rams the mop handle into the guard's nose. The guard's hand is on Robyn's ass.

Caption: 'When she touched me again, I … uh, well, I broke her nose with the mop handle.'

Panel 3
Back to the present, in the cafe booth. We're facing the wall at this point.

Babbette: Oh, so you have a history of breaking noses.

Emily: Shush! I want to hear this.


Panel 4
Switch angles, now we're viewing the scene from the wall. Beyond the booth, we see a half dozen people sitting or standing a short distance away, listening intently.

Robyn: When I was 10, my parents enrolled me in a Kendo dojo after a bullying incident in school.

Robyn: It paid off … sort of.