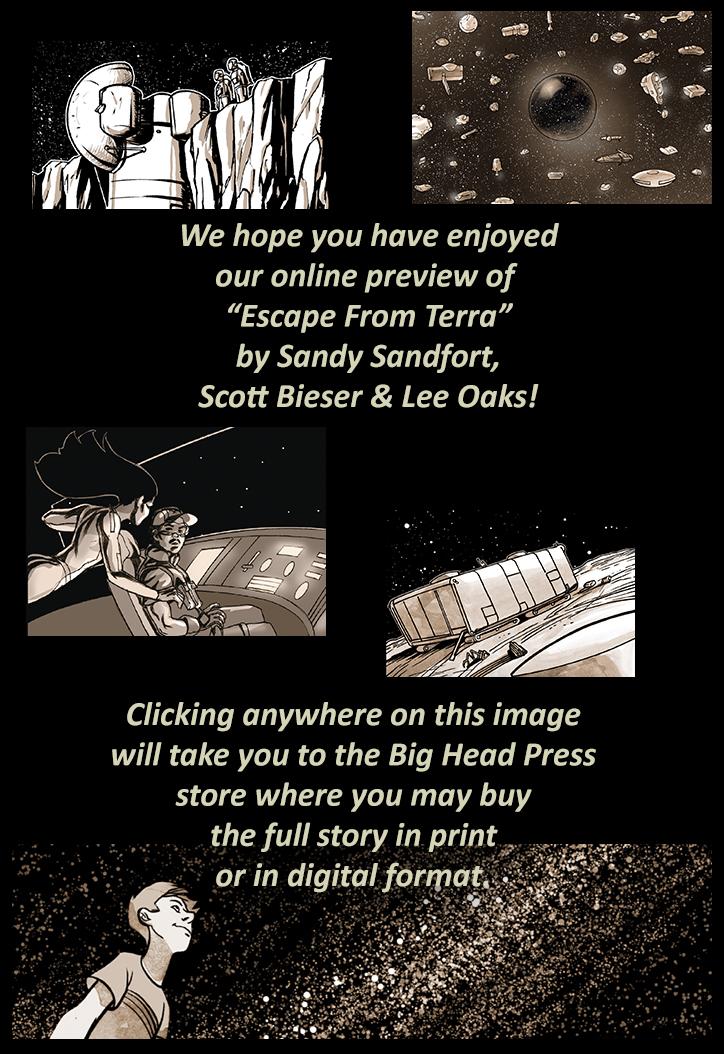 Strip 430 -- First Seen: 2010-04-30
Escape From Terra is updated with new pages every Monday through Friday.

More Goodies To Come!
As another incentive, when we hit our first goal of $7,000, we will add a new perk to the mix: the trade paper back including a mini-version (8.5" x 11:) of the full size poster we'll be adding when we hit our first stretch goal. As announced last week, the art is still in-progress and we'll post more updates on the poster as Scott is able to refine it.
And to correct last week's post, the full size poster will be 18" x 24".
Help us reach our goal by continuing to spread the word! And if you haven't contributed yet, then click on the image and help us out.
The Incentive
Our IndieGoGo campaign got off to a strong start, but now it's time to add more incentive, so...
Check out the work-in-progress sample of the official promotional poster for Quantum Vibe: This Means War (Part 1).
The finished poster will be made available to donors when we make our first stretch goal of $10,000. It will be offered in two sizes: 8.5" x 11" (which can be mailed flat) and 18" x 24" (which must be shipped in a tube).
So please help us make this poster a reality, check out our campaign page if you haven't already, and choose the best reward tier for you.

The Transcript For This Page
Panel 1
Re-establish the scene at the musical fountain. The Chinese toughs are closing in on Sajjan and his sisters, trying to paw at the girls, who are fending the toughs off, so far, by blocking and slapping hands away (Sikh girls are no cream-puffs). Sajjan is towering over everyone looking angry but not moving – yet.

Caption (Sajjan): 'The Chinese toughs were trying to uncover my sisters' hair and touch them .. uh, inappropriately.

Caption (Sajjan): 'You know I don't like to fight ...'

Panel 2
Snap back to the present, a two-shot of Robyn and Sajjan. Robyn is winking at Sajjan.Sajjan rolls his eyes.

Robyn: Like at your size you ever had to!

Sajjan: Yes, well anyway, I told them to stop ...

Panel 3
One of the Chinese boys directly confronts Sajjan, assuming some sort of 'martial arts' pose. The other Chinese boys are standing around laughing

Chinese gang leader: Or what? Are you going to punch me in the nose, Baby Huey?

Caption (Sajjan): Which was okay with me. You know, 'sticks and stones.'


Panel 4
The lead Chinese boy pulls the head-scarf from one of the Sikh girl's head. Sajjan looks enraged. Put an inset of current-Sajjan's head at the top and Robyn at the bottom of the panel, to identify their respective captions.

Caption (Sajjan): 'But then he pulled Safia's head covering off, so I ...'

Caption (Robyn): 'Punched him in the nose?'


Panel 5
A sort of mini-melee with Sajjan at the center; the Chinese youths are either punching or kicking at him, or getting knocked back hard as Sajjan defends himself.

Caption (Sajjan): 'Uh, yeah, something like that. Then they were all over me.

Panel 6
The aftermath: Sajjan is left standing, his clothes torn and skin a bit bruised but otherwise uninjured. The Chinese toughs are all on the ground around him, some holding hands over their noses, some with arms wrapped around broken ribs, one holding a broken leg, and one laying in the shallow water of the fountain behind him. The sisters are at the periphery of the scene, looking horrified.

Caption (Sajjan): 'In the end, they were all laying on the ground with broken noses, ribs, arms, and one leg, I think.

Caption (Sajjan): Actually, one of them wasn't on the ground; I threw him into the fountain.'