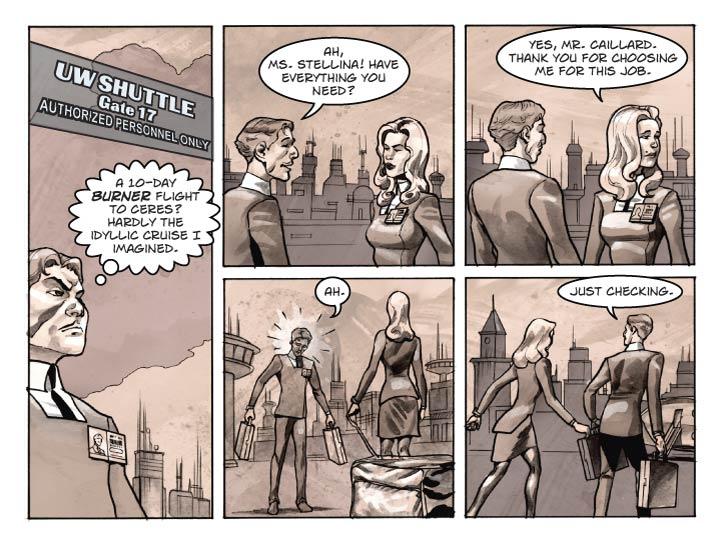 Strip 7 - Click on page above to goto the next page. -- First Seen: 2008-09-26
Escape From Terra is updated with new pages every Monday through Friday.

SubscribeStar Update: All Systems Go!
The QUANTUM VIBE page on SubscribeStar is now open for business.
Those seeking an alternative to Patreon for supporting Scott and Quantum Vibe, SubscribeStar is another option. Paypal is not available with SubsribeStar, but credit cards are accepted. Plans for accepting crypto-payments are in the works. Stay tuned.
SubscribeStar update: Not yet
The QUANTUM VIBE page on SubscribeStar is open, although the site seems to be going through some growing pains.
For that reason I'm advising Patrons looking to switch over, to wait a little while longer. I subscribed to a couple of channels there and there are some billing issues. If they get cleared up within a week, I'll announce the ALL CLEAR and invite everyone unhappy with Patreon to come over.

The Transcript For This Page
Strip 7 – This time for sure

Panel 1
Largish panel, Guy stands left foreground, carrying a bag in each hand, although we don't see him below the waist yet. In the background to the right, the Burner spacecraft with its massive engines rests on its launch sling.

Guy (to himself): A 10-day Burner flight to Ceres? Hardly the idyllic cruise I imagined.

(the next panels are a four in a 2x2 grid)
(yes, this looks just like yesterday's strip, but it resolves differently)

Panel 2
Two-shot of Guy and Fiorella. We see both above the waist.

Guy: Ah, Ms. Stellina! Have everything you need?


Panel 3
Same shot. She is answering his question, but he looks distracted by something.

Fiorella: Yes, Mr. Caillard. Thank you for choosing me for this job.


Panel 4
Camera pulls back to show them head-to-toe. Fiorella is the same as before, but this time Guy is looking down to see that he does have pants on this time.

Guy: Ah.

Panel 5
The two of them walk away towards the spaceship, bags in tow.

Guy: Just checking.