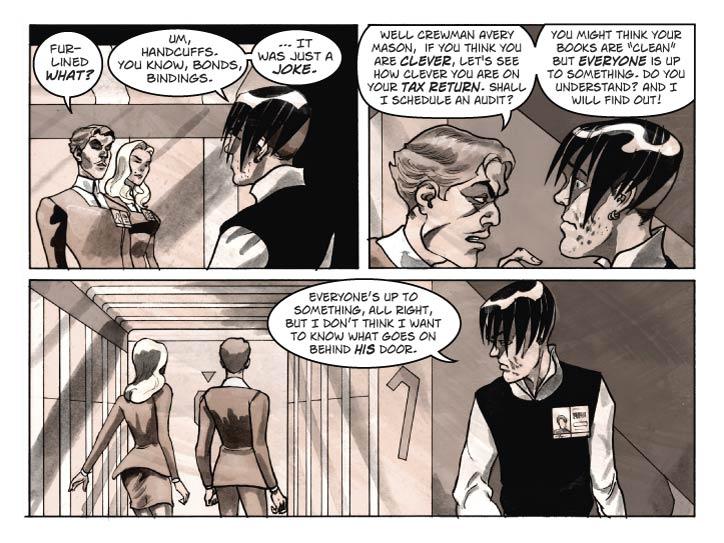 Strip 9 - Click on page above to goto the next page. -- First Seen: 2008-09-26
Escape From Terra is updated with new pages every Monday through Friday.

SubscribeStar Update: All Systems Go!
The QUANTUM VIBE page on SubscribeStar is now open for business.
Those seeking an alternative to Patreon for supporting Scott and Quantum Vibe, SubscribeStar is another option. Paypal is not available with SubsribeStar, but credit cards are accepted. Plans for accepting crypto-payments are in the works. Stay tuned.
SubscribeStar update: Not yet
The QUANTUM VIBE page on SubscribeStar is open, although the site seems to be going through some growing pains.
For that reason I'm advising Patrons looking to switch over, to wait a little while longer. I subscribed to a couple of channels there and there are some billing issues. If they get cleared up within a week, I'll announce the ALL CLEAR and invite everyone unhappy with Patreon to come over.

The Transcript For This Page
Strip 9

Panel 1
A moment after the previous strip's last panel.
Guy has turned and is glaring darkly at the crewman, who's sly smile is fading. Fiorella can be seen just behind Guy.

Guy: Fur-lined what?

Crewman: Um, handcuffs. You know, bonds, bindings. … It was just a joke.


Panel 2
Guy is not a physically imposing man but he is totally in the crewman's face now, exuding the Force of Authority against the hapless scrounger, who is cringing now.

Guy: Well crewman Avery Mason, I see by your tag that you are from Earth and work for the ship's catering crew. If you think you are clever, let's see how clever you are on your tax return. Shall I schedule an audit?

Guy (2): You might think your books are 'clean' but everyone is up to something. Everyone, do you understand? And I will find out!


Panel 3.
Guy and Fiorella walk away down the corridor, the crewman watches them go and mutters to himself.

Crewman: Everyone's up to something, all right, but I don't think I want to know what goes on behind his door.