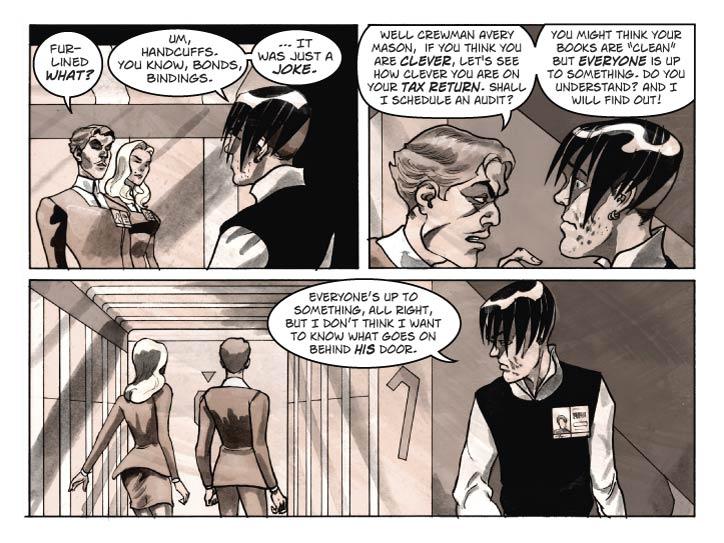 Strip 9 - Click on page above to goto the next page. -- First Seen: 2008-09-26
Escape From Terra is updated with new pages every Monday through Friday.

Roswell, Texas Deluxe Pre-Launch Deal
As we get ready to launch our Roswell, Texas Deluxe Indiegogo campaign next week, we have an early bird deal to offer. If you sign up to our campaign before the campaign starts, you will get a 15% discount on your contribution to help us print 500 copies of the limited deluxe edition of the popular retro-sci-fi comedy romp. By signing up, you will receive updates on the campaign as well.
To sign up for our early-bird special, just go to our Indiegogo Roswell, Texas Rides Again campaign pre-launch page. And stay tuned for more announcements!
Roswell, Texas - Full Color Hard Bound
ROSWELL, TEXAS, the retro-sci-fi comedy romp written by L. Neil Smith and Rex F. May, and illustrated by Scott Bieser and Jen Zach, is getting a new lease on life from Big Head Press. The new deluxe printed graphic novel will be in a full-color, larger format hard-back book, and limited to 500 copies available exclusively through Indiegogo.com, the crowd-funding platform. This new edition will also include an afterward by Rylla Smith, daughter of author L. Neil Smith, who discorporated in late August.>
The crowd-funding campaign is scheduled to commence October 25, ending November 23. Stay tuned for more announcements.

The Transcript For This Page
Strip 9

Panel 1
A moment after the previous strip's last panel.
Guy has turned and is glaring darkly at the crewman, who's sly smile is fading. Fiorella can be seen just behind Guy.

Guy: Fur-lined what?

Crewman: Um, handcuffs. You know, bonds, bindings. … It was just a joke.


Panel 2
Guy is not a physically imposing man but he is totally in the crewman's face now, exuding the Force of Authority against the hapless scrounger, who is cringing now.

Guy: Well crewman Avery Mason, I see by your tag that you are from Earth and work for the ship's catering crew. If you think you are clever, let's see how clever you are on your tax return. Shall I schedule an audit?

Guy (2): You might think your books are 'clean' but everyone is up to something. Everyone, do you understand? And I will find out!


Panel 3.
Guy and Fiorella walk away down the corridor, the crewman watches them go and mutters to himself.

Crewman: Everyone's up to something, all right, but I don't think I want to know what goes on behind his door.