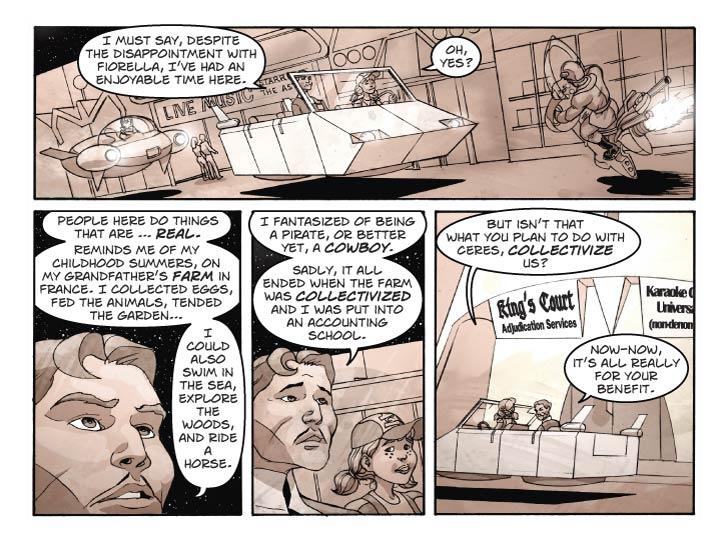 Strip 92 - Click on page above to goto the next page. -- First Seen: 2009-01-20
Escape From Terra is updated with new pages every Monday through Friday.

Get The EFT Collection!
Looking for an escape while you wait? You might want to consider an Escape From Terra. All 3 volumes can now be yours for a mere $19.95 USD. Get yours now while supplies last!
Quantum Vibe on MeWe!
Calling all Quantum Vibe fans! Tired of not getting timely updates for Quantum Vibe on Facebook? Wish there was a social media site that allowed it's users to communicate with everyone who's interested? Well wait no longer.
Quantum Vibe now has a MeWe group on MeWe. If you're already a MeWe user, then just click on the MeWe picture on this article and it will take you straight to the Quantum Vibe MeWe group page. Once you join the group you know you won't miss a thing going on in the Quantum Vibe universe.
Sign up today!

The Transcript For This Page
Panel 1
Guy is riding in Babbette the Younger's cab, enroute to the King's Court.

Guy: I must say, despite the disappointment with Fiorella, I've had an enjoyable time here.

Babbette: Oh, yes?

Panel 2
Close-up on Guy, a look of dreamy remembrance on his face. Leave extra space for dialog.

Guy: People here do things that are … real.

Guy (2): Reminds me of my childhood summers, on my grandfather's farm in France. I collected eggs, fed the animals, tended the garden…

Guy (3): I could also swim in the sea, explore the woods, and ride a horse.


Panel 3
Pull camera back to bring Babbette back into the frame. She seems moved by his story.
[I like this. It helps set us up for WAR.]
Guy: I fantasized of being a pirate, or better yet, a cowboy.

Guy (2): Sadly, it all ended when the farm was collectivized and I was put into an accounting school.


Panel 4
The cab pulls up in front of the King's Court.

Babbette: But isn't that what you plan to do with Ceres, collectivize us?

Guy: Now-now, it's all really for your benefit.