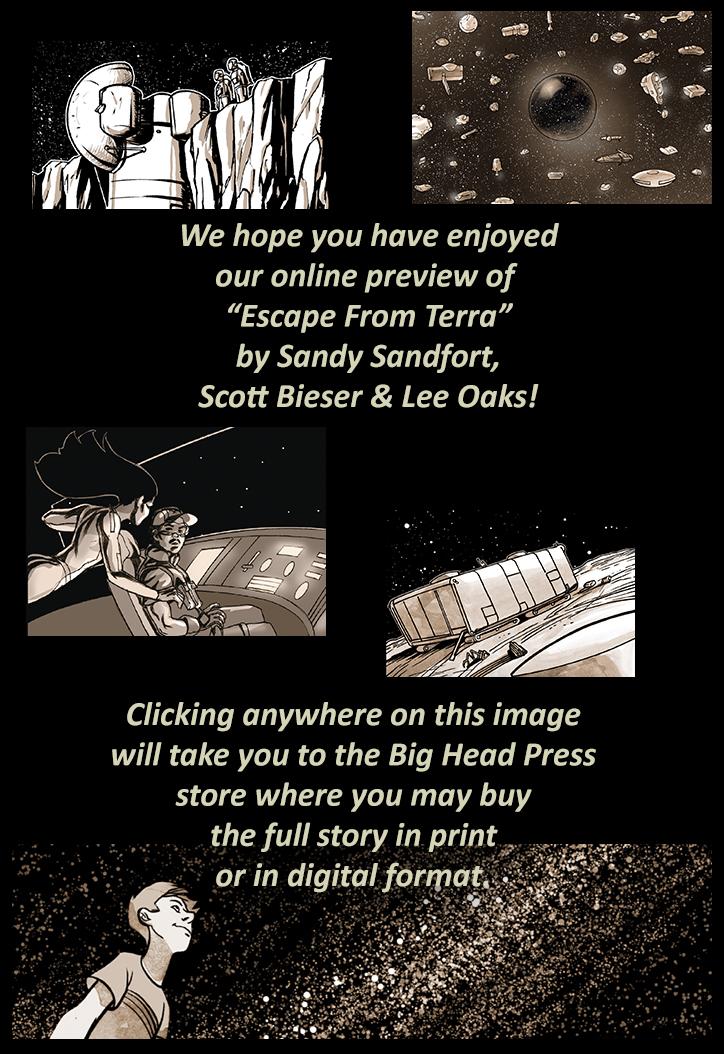 Strip 987 -- First Seen: 2012-06-28
Escape From Terra is updated with new pages every Monday through Friday.

Roswell, Texas Deluxe Pre-Launch Deal
As we get ready to launch our Roswell, Texas Deluxe Indiegogo campaign next week, we have an early bird deal to offer. If you sign up to our campaign before the campaign starts, you will get a 15% discount on your contribution to help us print 500 copies of the limited deluxe edition of the popular retro-sci-fi comedy romp. By signing up, you will receive updates on the campaign as well.
To sign up for our early-bird special, just go to our Indiegogo Roswell, Texas Rides Again campaign pre-launch page. And stay tuned for more announcements!
Roswell, Texas - Full Color Hard Bound
ROSWELL, TEXAS, the retro-sci-fi comedy romp written by L. Neil Smith and Rex F. May, and illustrated by Scott Bieser and Jen Zach, is getting a new lease on life from Big Head Press. The new deluxe printed graphic novel will be in a full-color, larger format hard-back book, and limited to 500 copies available exclusively through Indiegogo.com, the crowd-funding platform. This new edition will also include an afterward by Rylla Smith, daughter of author L. Neil Smith, who discorporated in late August.>
The crowd-funding campaign is scheduled to commence October 25, ending November 23. Stay tuned for more announcements.

The Transcript For This Page
Panel 1
Long shot of Marsha at the podium. We see her over the backs of the crowds' heads. The other Council members seated on the stage are listening with rapt attention.
Marsha: But we are here to help you.
Marsha: The Massachusetts Contingent and the Vesta Council are just like you people.
Marsha: We put our pants on one leg at a time.

Panel 2
Medium close-up of Marsha, waxing rhetorical.
Marsha: We don't want an oppressive government any more than you do.
Marsha: Remember, we escaped from Terra and Taxachusetts.

Panel 3
Same shot, Marsha looking expectantly at the audience. In the upper right corner, draw three crickets inside a circular word balloon with the tail pointed towards the audience.
No dialog.

Panel 4
Marsha looks down, blushing slightly that her little joke fell flat.
Marsha: Uh .. in any case.