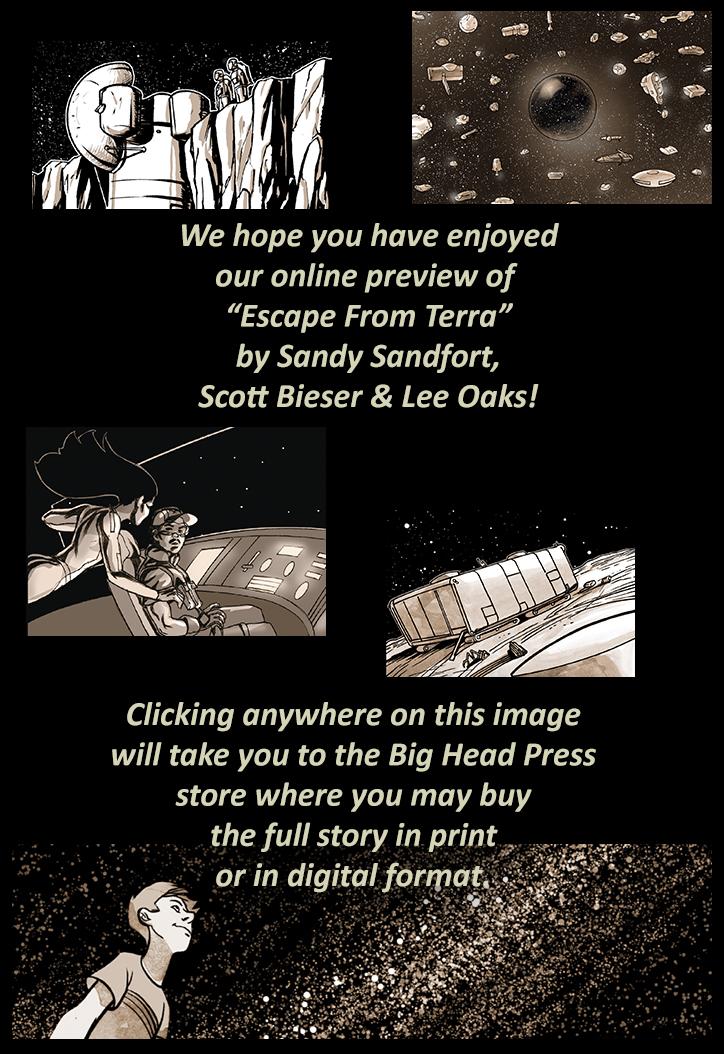 Strip 993 -- First Seen: 2012-07-06
Escape From Terra is updated with new pages every Monday through Friday.

IGG Campaign Concludes
A Message From Alyss
So, we fell just a few hundred short of our goal, but that's okay, because it's a "Flexible Goal" meaning we still get the funds raised (minus Indiegogo's cut) so we can and will fulfill the promised perks.
We are grateful to all who contributed, and yes you are all now founding members of the "Free Cosmos Project," with all the privileges membership entitles you thereto. (Unless you don't want the honor, we'll respect that too.) Which for now means we'll be whipping up a spiffy little Certificate for each of you, physical versions sent out with the physical books requested, and PDF versions for the rest.
Indiegogo will disburse the funds to us soon. And we've already got the ball rolling printing books, and postcards, as well as the above-mentioned FCP certificates. And we'll be talking a bit more about the Free Cosmos Project in the coming weeks.
Thanks again and click on, me hearties, click on.
Referral Contest Update #2
Update: Inked Drawing
We still can use your help getting more people to contribute to our campaign with a referral contest. The campaign backer whose referrals raise the most money for our campaign, will win a one-of-a-kind ink-on-paper drawing of Alyss, Hugo and Murphy, drawn and water-colored by QUANTUM VIBE creator Scott Bieser!
Here's an inked drawing of what you might win: Alyss, Hugo and Murphy enjoying a rare vacation on Nuveau Mo'orea. Click on the image to see a larger version (in a new tab or browser window - depends on your browser settings). Stay tuned for more reveals. The final result will be a unique creation a real QUANTUM VIBE fan would love to have.
You must have an IndieGogo account to participate. Go to this page for more info on how to participate. Don't delay and risk missing out on the chance of winning a one-of-a-kind piece of original art. The campaign ends, July 5th, 2021.

The Transcript For This Page
Panel 1
Re-establish the scene in the spaceport, as Marsha and her cronies seek passage off of Vesta with Robert 'Bobcat' Katzman.
Bobcat: I'm afraid I can't take you to Mars, at least not on this trip.
Bobcat: I gotta cargo committed to Power City, in the Uranian atmosphere.
Panel 2
Marsha pleads with Bobcat. Bobcat looks thoughtful.
Marsha: Please, Mr. Bobcat, isn't there anything you can do to help us?
Bobcat: Well ... the least-energy trajectory would pass close enough to Pallas that a local shuttle could take you on a transfer.
Panel 3
Marsha and her delighted cohort shuffle off after Bobcat. They shuffle past (not into) a doorway which will be the focus of the next panel.
Marsha: Is that closer to Mars? Well, no matter, we accept!
Bobcat (thought): After that, you'll be Pallas' problem.

Panel 4
Focus on that doorway. A sign tells us it's the ARRIVAL GATE. Pierre Le Boeuf (from the 'Code Duello' arc) is standing just in front of the doorway, with his luggage at his feet, and is looking around with a disappointed expression.
Pierre: Bonjour, je suis ici. Is anyone here?

Panel 5
A 10-year-old boy wearing a truckers-style cap with the words 'Vesta Spaceport Agent' on it, Vesta-walks up to Pierre.
Boy: May I help you, sir? I'm a Vesta Spaceport Agent.
Pierre: I am looking for the Vesta Council offices. Can you direct me there?
Panel 6
Medium close-up on the boy so we can see his cap, a remembrance of Babbette The Younger's first appearance.
Boy: Well sir, The Vesta Council offices are currently closed.
Boy: May I take you to a suitable hotel? My runabout is over there.
Panel 7
Pierre tip-toe-walks along behind the boy, who has taken some of Pierre's luggage.
Pierre: Alright, garçon, take me to your finest hotel, the Vesta Council will be paying for it.
Panel 8
Medium Close-up on the boy, smiling. We can see a name-tag on his shirt which reads, 'Mario Farber.'
Boy: As you wish, Sv. To the Farber Inn, best hotel on Vesta.