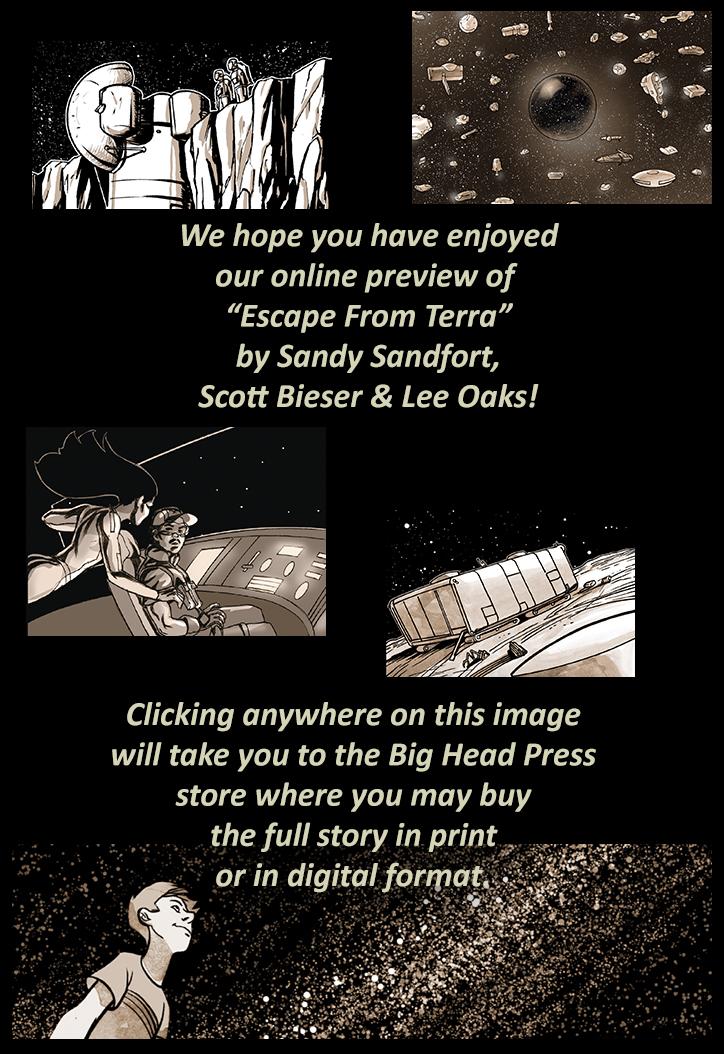 Strip 316 -- First Seen: 2009-11-30
Escape From Terra is updated with new pages every Monday through Friday.

More Goodies To Come!
As another incentive, when we hit our first goal of $7,000, we will add a new perk to the mix: the trade paper back including a mini-version (8.5" x 11:) of the full size poster we'll be adding when we hit our first stretch goal. As announced last week, the art is still in-progress and we'll post more updates on the poster as Scott is able to refine it.
And to correct last week's post, the full size poster will be 18" x 24".
Help us reach our goal by continuing to spread the word! And if you haven't contributed yet, then click on the image and help us out.
The Incentive
Our IndieGoGo campaign got off to a strong start, but now it's time to add more incentive, so...
Check out the work-in-progress sample of the official promotional poster for Quantum Vibe: This Means War (Part 1).
The finished poster will be made available to donors when we make our first stretch goal of $10,000. It will be offered in two sizes: 8.5" x 11" (which can be mailed flat) and 18" x 24" (which must be shipped in a tube).
So please help us make this poster a reality, check out our campaign page if you haven't already, and choose the best reward tier for you.

The Transcript For This Page
Panel 1
Medium exterior shot of the Split-Tail, her engines firing in a low-level burn.

Doris (from inside the boat): Yeoman Fiorella! Are you seeing what I'm seeing?

Panel 2
Medium shot of Fiorella (the real one this time) at her control console aboard the Split-Tail.

Fiorella: Aye, Cap'n, but I can't believe my eyes.

Fiorella: It's so big … and … long!


Panel 3
Medium close-up of Captain Doris, at her station.

Doris: And look at the size of the head on that thing!


Panel 4
Close-up of Firoella, with an expression of a wolf admiring a nice-juicy steak.

Fiorella: I can't wait to get my hands on it!