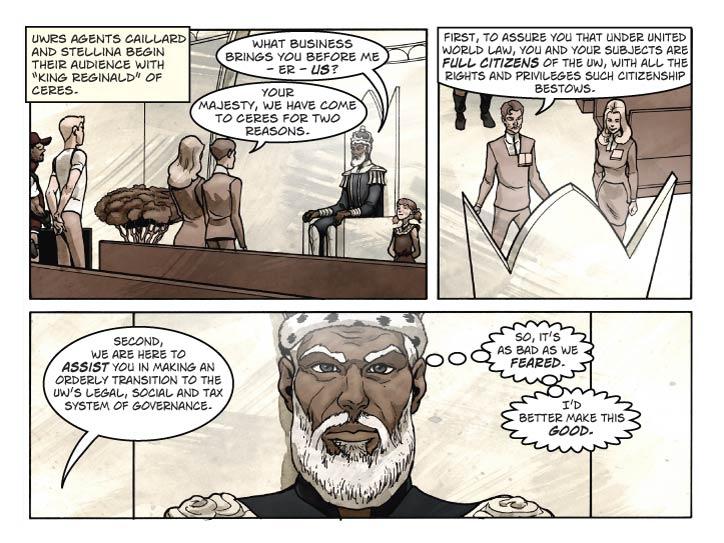 Strip 36 - Click on page above to goto the next page. -- First Seen: 2008-11-03
Escape From Terra is updated with new pages every Monday through Friday.

Qv8 Book and E-Book On Sale!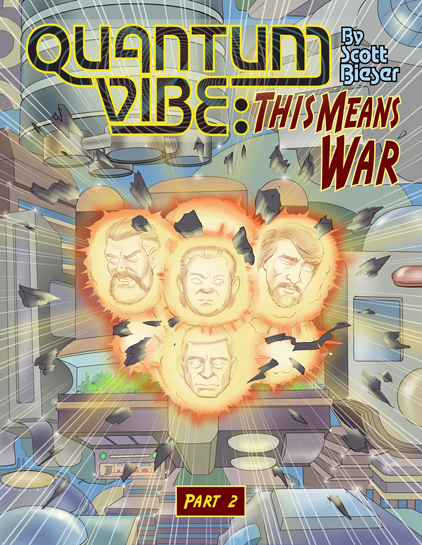 Quantum Vibe: This Means War (Part 2), the 8th volume of the Quantum Vibe saga is now on sale: in print, e-book and kindle. Get your copy now before one of your friends does and then tells you what happens before you read it.
Click on the cover art to secure your very own copy today!
Hot Off The Press!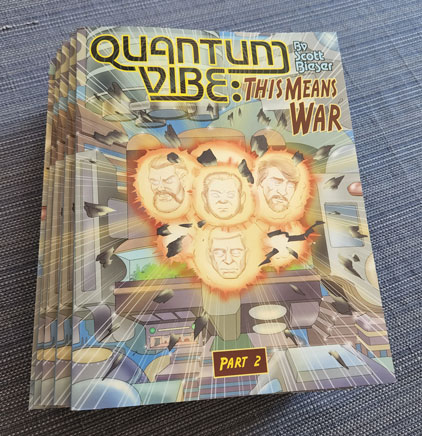 Hey gang! Good news. The books have arrived from the printer.
Over the next couple of weeks, we will be working to get the books signed, and all other perks sorted, organized, and ready for shipping.
Stay tuned for more updates as we get ready to ship. And thanks again to all our donors and patrons who help keep Quantum Vibe going.

The Transcript For This Page
Strip 36

Panel 1
Establishing shot: King Reginald on his raised dais, Babbette on the ground next to the dais, Guy and Fiorella front and center facing the King, Bert and Ernie behind and to one side of G and F.

Reginald: What business brings you before me – er – us?

Guy: Your Majesty, we have come to Ceres for two reasons.

Guy (2): First, to assure you that under United World law, you and your subjects are full citizens of the UW, with all the rights and privileges such citizenship bestows.

Panel 2
Medium shot of Guy with Fiorella beside him, from Reggie's POV.

Guy: Second, we are here to assist you in making an orderly transition to the UW's legal, social and tax system of governance.

Panel 3
Medium Close-up of King Reggie, wearing a poker face.

Reggie (thought balloon): So, it's as bad as we feared.

Reggie (thought balloon 2): I'd better make this good.