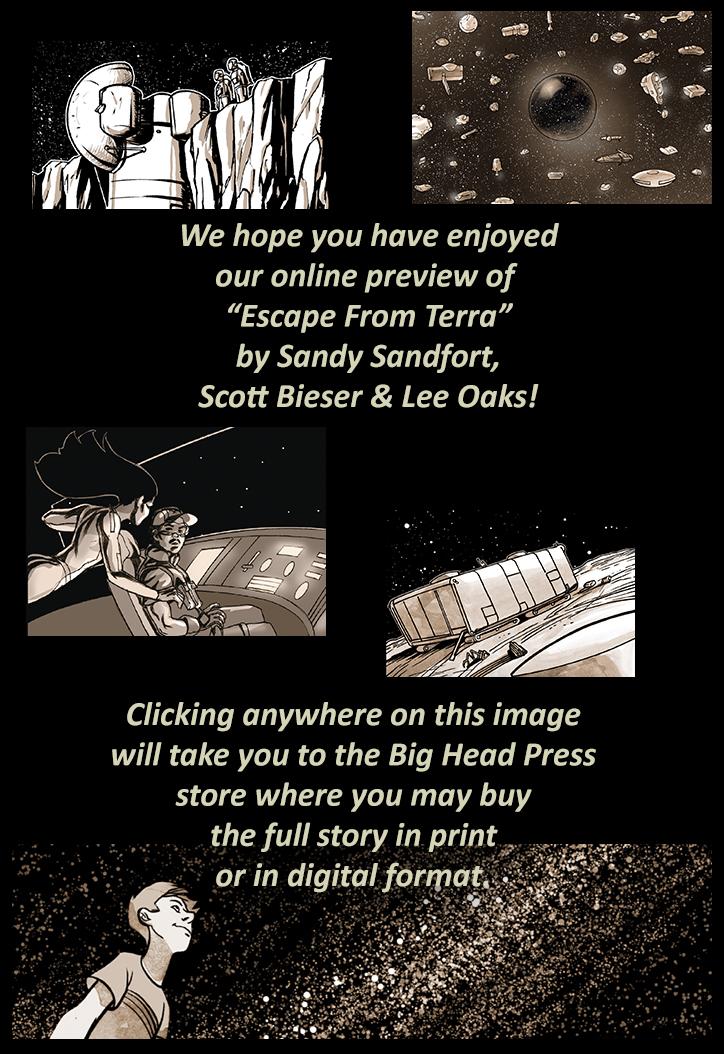 Strip 360 -- First Seen: 2010-01-29
Escape From Terra is updated with new pages every Monday through Friday.

Get The EFT Collection!
Looking for an escape while you wait? You might want to consider an Escape From Terra. All 3 volumes can now be yours for a mere $19.95 USD. Get yours now while supplies last!
Quantum Vibe on MeWe!
Calling all Quantum Vibe fans! Tired of not getting timely updates for Quantum Vibe on Facebook? Wish there was a social media site that allowed it's users to communicate with everyone who's interested? Well wait no longer.
Quantum Vibe now has a MeWe group on MeWe. If you're already a MeWe user, then just click on the MeWe picture on this article and it will take you straight to the Quantum Vibe MeWe group page. Once you join the group you know you won't miss a thing going on in the Quantum Vibe universe.
Sign up today!

The Transcript For This Page
Panel 1
Large, flash-back sort of panel. A younger (but still quite large) Arana is in a wood-carving studio. He's working on one object; on shelves behind him are several other beautiful Maori carvings – see reference photos provided by Sandy. In a small cameo-panel overlooking the scene, we see Reggie, talking.

Reggie: Arana showed early promise of artistic ability, especially with traditional Maori wood carvings.

Reggie: He studied under a master carver and produced some beautiful sculptures.

Panel 2
Back in the present, Reggie is talking to Doris and Fiorella, who are turned to look at him.

Reggie: When we're all back on Ceres, remind me to show you several exquisite pieces I bought early in his career.

Panel 3
Looking past Reggie toward Arana at his desk, a bitter expression on his face.

Reggie: So what did your great talent earn you, Arana?

Arana: Bubkes, nada, zip, zero.

Panel 4
Another flashback panel. We see Arana, from behind, standing in front of a mirror, posed so that we can't clearly see his reflection. He's pulling something down over his head.

Caption (Reggie): 'So he decided that if art critics and fanciers weren't going to take him seriously, he wasn't going to take them seriously either.

Caption (Reggie): He looked around, saw who was getting attention – and money – and decided to create the most flamboyant deceit in the history of art.

Panel 5
Focus is on Doris, but above her head is a cloudy-bordered space in which appears the image of the masked 'Mysto.' It's a full-face mask with some bizarre design. Go nuts.

Reggie (OP): He put on a mask and …

Doris: MYSTO! You're Mysto!
Panel 6
Looking past Doris at Arana, who is half-risen from his chair and taking a deep bow.

Arana: Congratulations, Captain, I am indeed Mysto, the famed 'Interplanetary Environmental Artist.'


Panel 7
Pull back a bit so we can also see Fiorella, who reacts with mild shock to what Doris was saying.

Arana: How did you like my work?

Doris: It was crap.