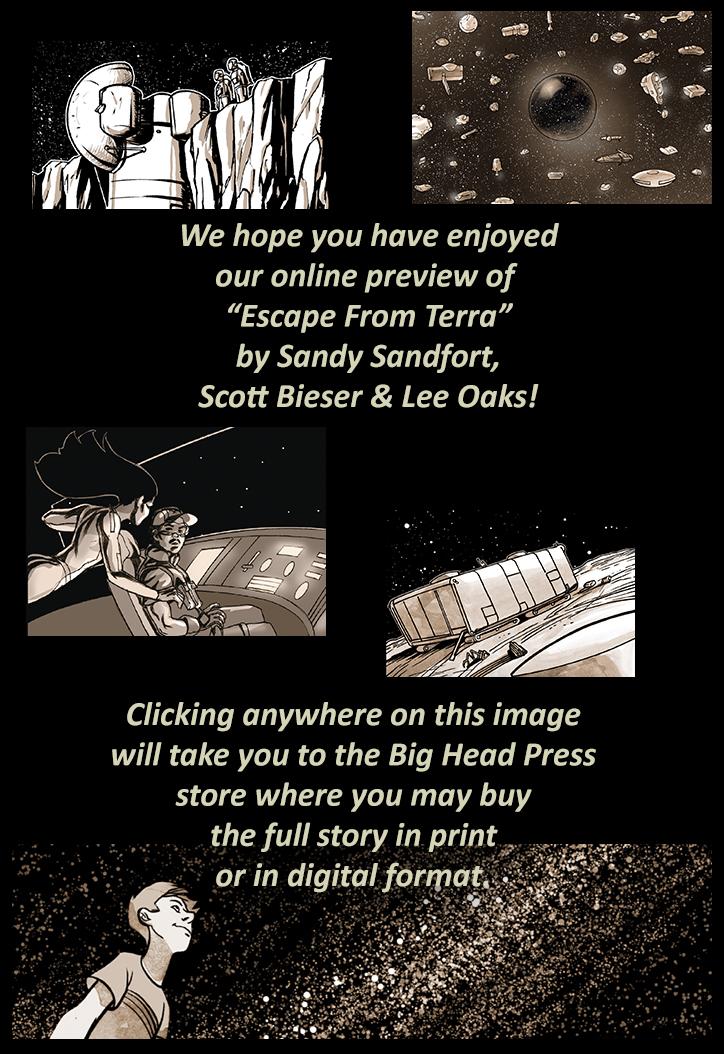 Strip 447 -- First Seen: 2010-05-25
Escape From Terra is updated with new pages every Monday through Friday.

More Goodies To Come!
As another incentive, when we hit our first goal of $7,000, we will add a new perk to the mix: the trade paper back including a mini-version (8.5" x 11:) of the full size poster we'll be adding when we hit our first stretch goal. As announced last week, the art is still in-progress and we'll post more updates on the poster as Scott is able to refine it.
And to correct last week's post, the full size poster will be 18" x 24".
Help us reach our goal by continuing to spread the word! And if you haven't contributed yet, then click on the image and help us out.
The Incentive
Our IndieGoGo campaign got off to a strong start, but now it's time to add more incentive, so...
Check out the work-in-progress sample of the official promotional poster for Quantum Vibe: This Means War (Part 1).
The finished poster will be made available to donors when we make our first stretch goal of $10,000. It will be offered in two sizes: 8.5" x 11" (which can be mailed flat) and 18" x 24" (which must be shipped in a tube).
So please help us make this poster a reality, check out our campaign page if you haven't already, and choose the best reward tier for you.

The Transcript For This Page
Panel 1
Frontal view of Robyn, Norman partly in the frame. Robyn is startled as she realizes Norman's hand is reaching through the open part of her blouse, headed for her breast (but not getting that far yet.)

Robyn: !

Panel 2
Robyn pulls quickly away from Norman, who looks slightly annoyed. Now we can see Carla – her blouse is unbuttoned half-way down and he has his other hand on her breast.

Norman: That's not very friendly.

Panel 3
Now Carla has turned (somewhat reluctantly) to face Norman and he has a hand on each of her breasts. He is turned to look lasciviously at Robyn, who is backing away.

Norman: See? Carla knows how to be friendly.

Panel 4
Norman has turned away from Carla and is now advancing on Robyn.

Norman: Now, come to Papa and let's see what else is on the menu for tonight.