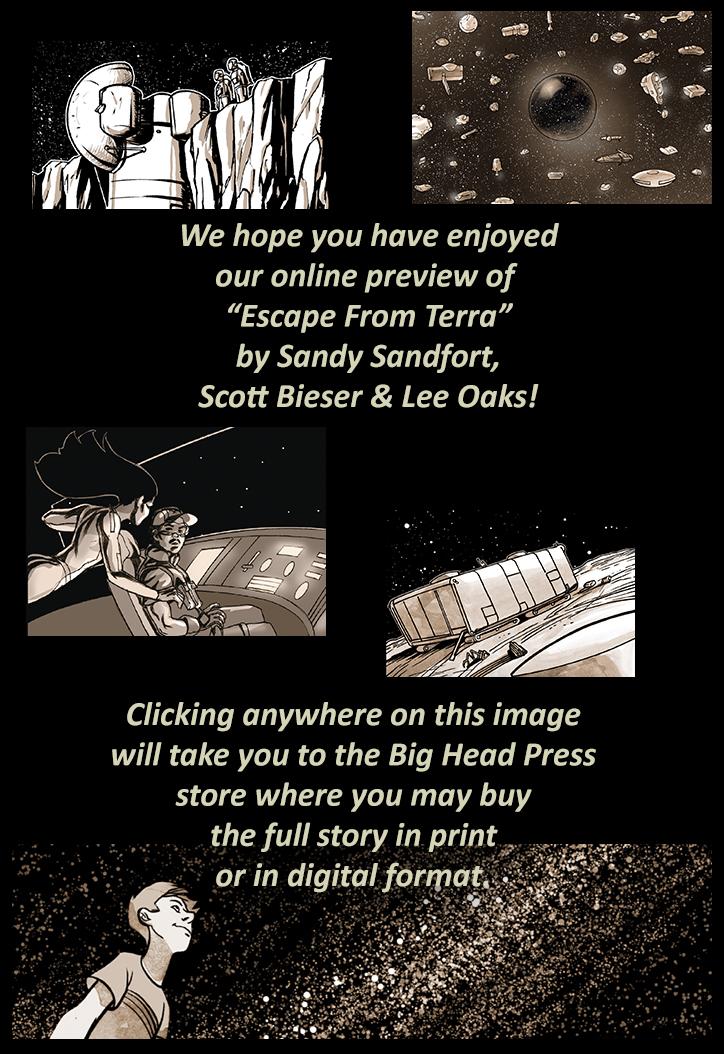 Strip 475 -- First Seen: 2010-07-02
Escape From Terra is updated with new pages every Monday through Friday.

IGG Campaign Concludes
A Message From Alyss
So, we fell just a few hundred short of our goal, but that's okay, because it's a "Flexible Goal" meaning we still get the funds raised (minus Indiegogo's cut) so we can and will fulfill the promised perks.
We are grateful to all who contributed, and yes you are all now founding members of the "Free Cosmos Project," with all the privileges membership entitles you thereto. (Unless you don't want the honor, we'll respect that too.) Which for now means we'll be whipping up a spiffy little Certificate for each of you, physical versions sent out with the physical books requested, and PDF versions for the rest.
Indiegogo will disburse the funds to us soon. And we've already got the ball rolling printing books, and postcards, as well as the above-mentioned FCP certificates. And we'll be talking a bit more about the Free Cosmos Project in the coming weeks.
Thanks again and click on, me hearties, click on.
Referral Contest Update #2
Update: Inked Drawing
We still can use your help getting more people to contribute to our campaign with a referral contest. The campaign backer whose referrals raise the most money for our campaign, will win a one-of-a-kind ink-on-paper drawing of Alyss, Hugo and Murphy, drawn and water-colored by QUANTUM VIBE creator Scott Bieser!
Here's an inked drawing of what you might win: Alyss, Hugo and Murphy enjoying a rare vacation on Nuveau Mo'orea. Click on the image to see a larger version (in a new tab or browser window - depends on your browser settings). Stay tuned for more reveals. The final result will be a unique creation a real QUANTUM VIBE fan would love to have.
You must have an IndieGogo account to participate. Go to this page for more info on how to participate. Don't delay and risk missing out on the chance of winning a one-of-a-kind piece of original art. The campaign ends, July 5th, 2021.

The Transcript For This Page
Panel 1
The end of the day. Robyn is coming out of the kitchen, wiping her hands on a towel. She's also wearing a white fry-cook's apron and has her hair pulled back with a small elastic tie. Emily is at the counter, having a cup of coffee.

Caption: The end of the day:

Robyn: No more orders?
Emily: Looks like that's it for the dinner shift.

Panel 2
Babbette the Elder walks over from her cashier station, all smiles.
BtE: Y' did well on your first day, kiddo. Picked up the kitchen routines real fast.
Robyn: Thanks, Sv. Guzmán. It's not all that complicated.

Panel 3
Babbette leans on the counter, adopting as informal and relaxed pose as she can. Robyn is removing her apron.
BtE: It's 'Babbette,' hon. I may be your boss, but I'm not a 'boss.'
Robyn: I know, S – Babbette, but I'm still learning names here and I think of 'Babbette' as being your granddaughter.

Panel 4
We see BtE, Robyn and Emily in the background left, in the foreground right Babbette the Younger has entered the cafe and is walking toward them. (We see her from behind)

Emily: Speak of the devil …

Babbette the Younger: The devil you say.

Panel 5
Four-shot. Now we see that BtY has a white bandage covering her nose. The bandage has what looks like a small computer chip on it. Emily is smiling at her sardonically; Babbette grins right back at her. Robyn is looking a bit ashamed.

Emily: Hey, the nose accessory really improves your looks!

BtY: I can arrange one for you, too.

Robyn: I'm really sorry I busted your nose.

Panel 6
Babbette the Younger steps behind the bar to pour herself a glass of water. As she does this she speaks to Robyn. Robyn is looking downcast. BtE also should be seen in this frame.

BtY: Hey, I was thinking – with you being declared 'presumed dead,' your parents must be in an awful state.

Robyn: I know. But how do I get a message to them without tipping off the authorities?

Panel 7
Babbette the Elder puts a protective arm around Robyn's shoulder and they start to exit the café, leaving BtY and Emily in their wake.

BtE: Where there's a will there's a way, hon.

BtE: Let's go see Reggie. He's back in town now and knows plenty o' tricks for dealing with this kind of problem.