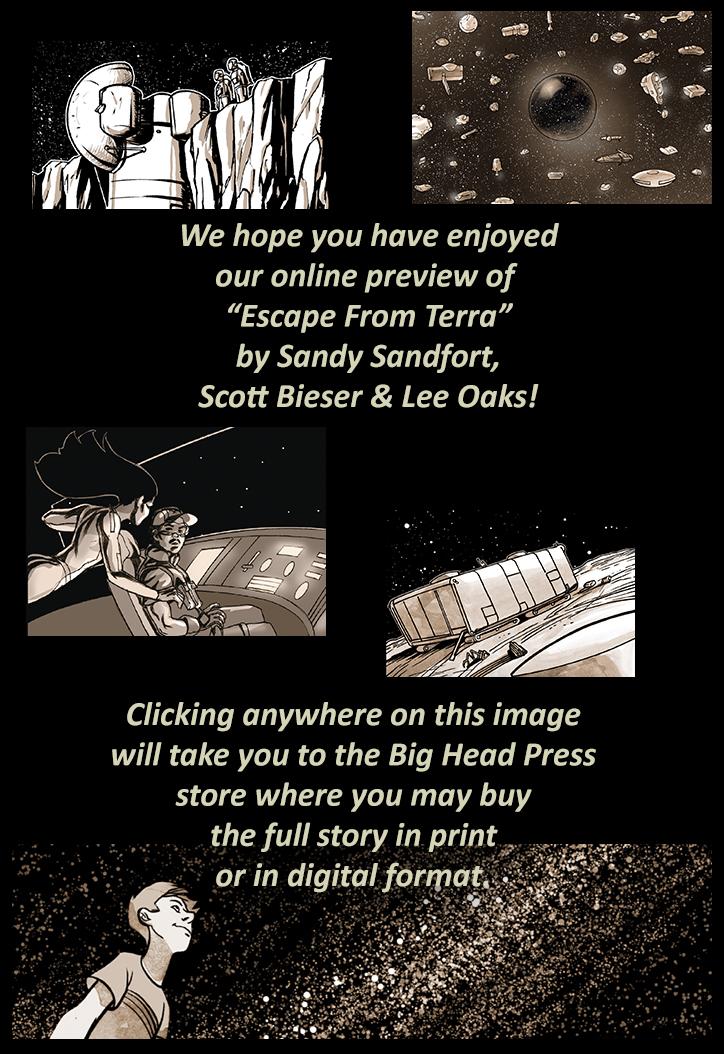 Strip 693 -- First Seen: 2011-05-02
Escape From Terra is updated with new pages every Monday through Friday.

Quantum Vibe: Château Périlleux Now On KIndle & DriveThru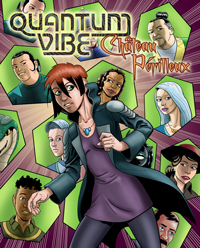 The hiatus is over, but now's still a good time to go back and read the previous volume of QUANTUM VIBE: Château Périlleux. Now available in digital format on Kindle and Drive Thru Comics!
QUANTUM VIBE: Château Périlleux asks how does a society without a formal government deal with crime and criminal conspiracies? In the far-future space-city known as Bubbleopolis, they do it with a mixture of wit, grit, and a culture based on rolling up one's sleeves and doing what must be done. Diana Martelli, a recent arrival, likes to call it compassionate individualism. And speaking of, young Diana is tasked with finding out who killed a supposedly un-killable android -- and uncovers a conspiracy which shakes the very foundations of the city and its culture.
As a bonus, we've added sixteen pages of "The Trial", a supplement to "Château Périlleux" which was not included in the printed version. Enjoy!
Get The EFT Collection!
Looking for an escape while you wait? You might want to consider an Escape From Terra. All 3 volumes can now be yours for a mere $19.95 USD. Get yours now while supplies last!

The Transcript For This Page
Panel 1
We are in a medium-sized private room, looking up from a position a bit less than a meter above the floor. We can see Captain Chang, looking down at us expectantly, with a soft smile.
Chang: Other than that, Sv Turner, how did you like the show?

Panel 2
Swing around and pull back to reveal the whole scene. Chang is standing beside a bed on which Ed is resting. Bedsheets are pulled up to his chest, he's wearing a soft cotton shirt. A couple of tubes are running from under those sheets to some sort of high-tech device, about the size of a loaf of bread, resting on a shelf built into the bed's headboard. Ed is smiling. The bed is adjustable, like a hospital bed, but otherwise the room looks like an ordinary bedroom.
Chang: I'm really sorry she shot you, Ed.
Ed: No problem, Pardner. It was only a flesh wound.

Panel 3
Medium shot of Chang, looking pained and regretful.
Chang: She drilled you through the heart, Ed. You died.

Panel 4
Medium shot of Ed, smiling sardonically.
Ed: Yeah, but it didn't take.
Ed: They slapped me in the emergency autodoc with time to spare.