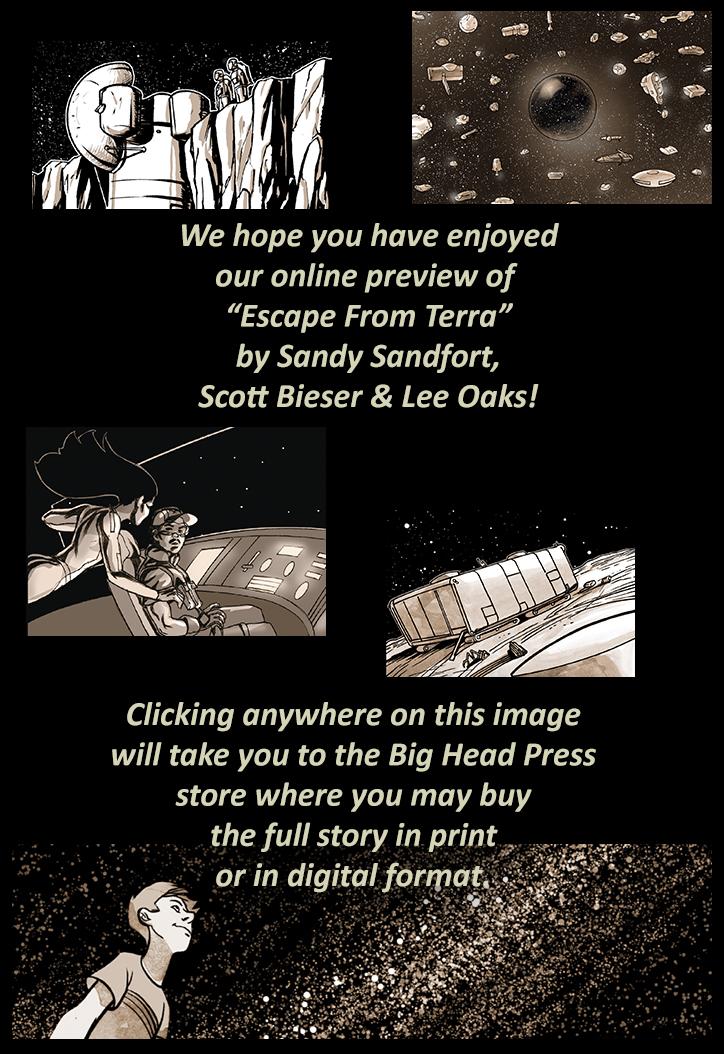 Strip 476 -- First Seen: 2010-07-05
Escape From Terra is updated with new pages every Monday through Friday.

Quantum Vibe: Château Périlleux Now On KIndle & DriveThru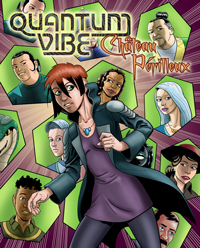 The hiatus is over, but now's still a good time to go back and read the previous volume of QUANTUM VIBE: Château Périlleux. Now available in digital format on Kindle and Drive Thru Comics!
QUANTUM VIBE: Château Périlleux asks how does a society without a formal government deal with crime and criminal conspiracies? In the far-future space-city known as Bubbleopolis, they do it with a mixture of wit, grit, and a culture based on rolling up one's sleeves and doing what must be done. Diana Martelli, a recent arrival, likes to call it compassionate individualism. And speaking of, young Diana is tasked with finding out who killed a supposedly un-killable android -- and uncovers a conspiracy which shakes the very foundations of the city and its culture.
As a bonus, we've added sixteen pages of "The Trial", a supplement to "Château Périlleux" which was not included in the printed version. Enjoy!
Get The EFT Collection!
Looking for an escape while you wait? You might want to consider an Escape From Terra. All 3 volumes can now be yours for a mere $19.95 USD. Get yours now while supplies last!

The Transcript For This Page
Panel 1
Establishing shot: Bert and Ernie, wearing space-suits with small jet-packs, are in a crater on the surface of an airless asteroid – the suits should be fairly form fitting like the environment suits used in the hockey game. These jet-packs are designed for short-distance travel in near-weightlessness and should look like a more advanced version of NASA's SAFER system

The asteroid, 243 Ida, is much smaller than Ceres, shaped something like a croissant, roughly 50 km by 24 km by 15 km, although we don't see the whole thing in this shot, but the horizon is very short.

The brothers are setting up mining equipment – presently, assembling a Mass Driver, a contraption shaped something like a rocket engine, with a body about 2 meters in diameter 10 meters long.

Attached to a narrow cylindrical body housing the power supply and held in place by three braces sticking into the sides of the bore hole.
Just above the drill head is the conveyor, a somewhat carousel-like device which receives material dug up by the drill and conveys it to the Mass Driver.

The Conveyor is positioned above the drill head as in the illustration. The Mass Driver is currently laying on its side, several meters away from the Conveyor, as the Brothers finish assembling it.

Ernie: Bert, tell me again …

Ernie: … Why are we out here on this stupid rock?

Panel 2
Medium close-up on Bert, who is struggling to tighten a bolt with a wrench (not easy in micro-gravity).

Bert: Because, Ernie, Reggie is paying us good money to check out this mascon he identified when he recently surveyed this planetoid.

Bert: AKA, 243 Ida – AKA, 'this stupid rock.'

Panel 3
Medium shot of Ernie – he's on one knee, attaching a support leg at one end of the Mass Driver. He is looking off-panel at Bert.
Bert (OP): This is a great gig, Ernie. If it turns out to be anything valuable, our third plus what he's already paying us amounts to quite a pretty penny.